Plant of the Month - October
Temperatures are cooling and the first tinge of autumn is on the trees, but there are still flowers in the garden to lift the spirits.
Abelia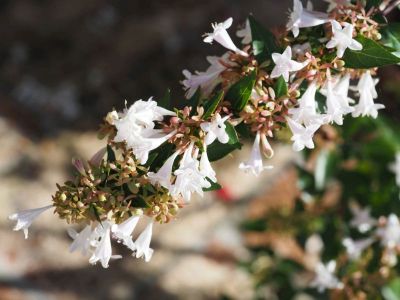 Abelia x grandiflora
Abelia needs no water and is a very useful well-behaved shrub which flowers late in the season and is appreciated by insects for its tubular flowers. It also does well in a pot. Originally from China, there are different varieties that have flowers from white shades through to pink and some are taller than others, but none is more than about 1.5m. This shrub is evergreen and needs no pruning. Abelia x grandiflora is a popular tall white variety but pink flowered 'Edward Goucher' is very attractive too.
Ceratostigma
Ceratostigma griffithii
Relatives of Plumbago, Ceratostigma originate from Tibet and the Himalayas and have intense cobalt blue flowers. There are three varieties available of which Ceratostigma griffithii seems the best suited to our growing conditions. I say 'seems' because the ones I planted two years ago were mostly dug up by wild animals (badger?). C. griffithii is resistant to drought and cold (provided it has free draining soil) and reaches 80cm, and it has red stems in autumn.
Choisya - Mexican Orange Blossom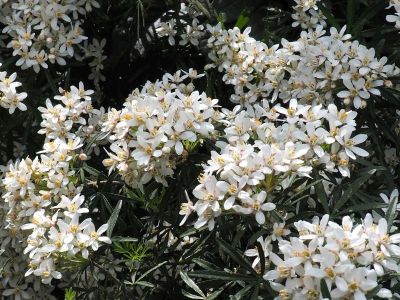 Choisya x dewitteana 'White Dazzler'
A very useful evergreen shrub that flowers twice a year. In fact, Choisya ternata is in bloom in my garden right now and has been cheering us with its perfume for several weeks. Known as "Mexican orange blossom", Choisya is indeed native to Mexico. Its glossy green leaves are decorative in themselves and the plant, which reaches about 1.5m x 1.5m, is happy to be clipped into shape. Choisya has many characteristics to recommend it for our gardens here in central Italy: it is very resistant to both drought and cold; it can tolerate shade and doesn't grow too fast. Choysia ternata, the most common type, has rounded glossy mid-green foliage whereas the leaves of variety Choisya 'Aztec Pearl' are narrower and darker. The flowers are generally white but I am experimenting this year with pink toned Choisya 'Apple Blossom'. My favourite is hybrid Choisya x dewitteana 'White Dazzler' which is a prolific bloomer.
Colchicum - Autumn crocus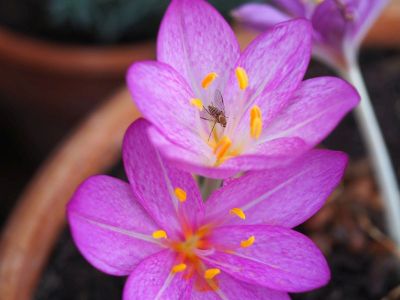 Colchicum cilicicum
There are many varieties of Colchicum in pinks and mauve, often with interesting patterns on the petals which distinguishes them from crocus. The flowers grow to around 15cm tall and usually arrive and fade before the leaves appear. They will tolerate some shade.
Crocus - autumn flowering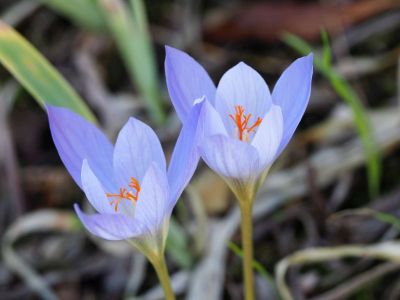 Crocus pulchellus
Autumn flowering crocus are a delight: many of them bloom before the leaves and appear as if by magic. They have many-branched anthers which also add to their charm and some are scented. Best known in Umbria of course are saffron crocus (Crocus sativus) but the delicate lilac Crocus pulchellus naturalises well. For other autumn crocus go here.
Cyclamen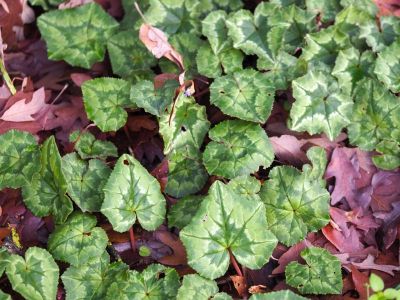 Cyclamen hederifolium foliage
For me the surprise and delight of discovering these tiny cyclamen Cyclamen hederifolium never fades. They grow wild in the woods above Lake Trasimeno and I have even seen them peeping out from crevices in the white rocks of the Aspromonte in Calabria. I grow them under the shade of trees where they enjoy burying themselves under the leaf litter in summer. Their ivy leaf patterned foliage is also very attractive.
Erigeron karvinskianus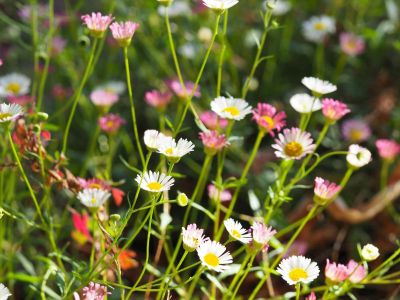 Erigeron karvinskianus
This little, elegant daisy is a useful addition to the dry garden, being happy amongst the roots of trees and in the crevices of paving and walls. Erigeron karvinskianus does best with a little shade during the day, so it works well under olive trees. It flowers twice, in spring and autumn. The white flowers start off as pink buds which softens the effect. Native to Mexico, the low growing shrub reaches about 30cm and only needs a trim in late winter.
Myrtus - Myrtle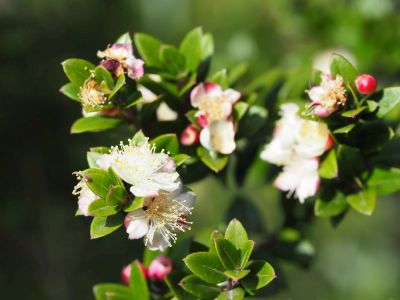 Myrtus communis subsp tarentina
Myrtle is native to the Mediterranean and ought to be a perfect plant for the dry garden. Sadly I find it more difficult to get established than I expected and it only grows very slowly and rarely flowers - it is meant to do so in late summer but with me the blooms arrive in October. It also (occasionally) has black berries which are popular in Sardinian cuisine. That said, it is a very useful evergreen shrub which I do hope you will try to grow and don't be put off. The common variety Myrtus communis is nice enough but the subspecies 'tarentina' has smaller darker leaves and is a bit more sophisticated.
Pomegranate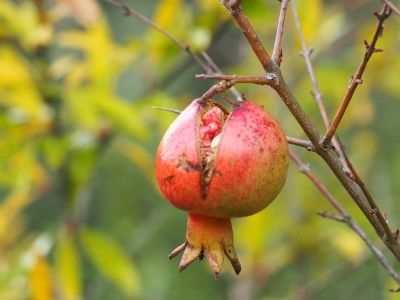 Pomegranate fruit
Pomegranate, Punica granatum, is native to the Middle East and central Asia and it has been cultivated around the Mediterranean for centuries. Mostly valued for the distinctive seedy fruit, pomegranate is also an ornamental shrub or tree which is welcome in the garden all year round.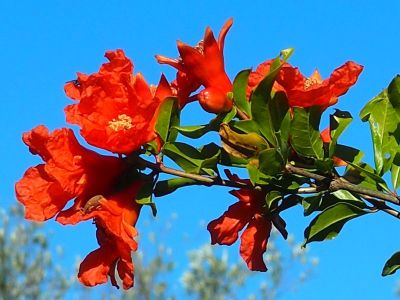 Pomegranate flowers in June
The basic pomegranate bears bright orange-red flowers in June but there are varieties with double blooms and more subtle colouration which usually do not fruit. The spring foliage is fascinating deep red, in autumn turning a rich gold and the twisted trunk and thorny branches have an attraction even in winter. The plant is drought resistant – there are some wild specimens growing alongside our track which never receive any attention and certainly no water, yet they thrive. Pomegranate fruit is a New Year food in Italy where the seeds are thought to symbolise wealth and abundance.
Roses - Chinas and their relatives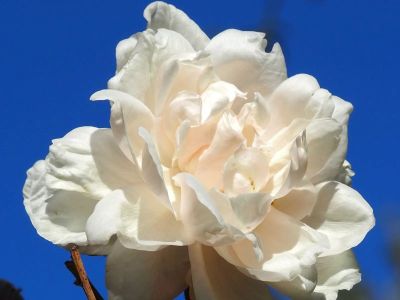 Noisette rose 'Madam Alfred Carrière' climber
This is the time of year when the China roses really make their comeback – they may be still in flower at Christmas. Relatives of chinas, Tea roses like 'Lady Hillingdon' and Noisettes such as 'Madam Alfred Carrière' are a real joy.
Sedum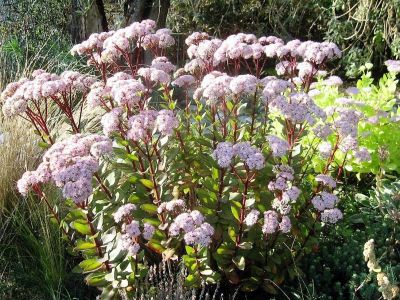 Sedum telephium 'Matrona'
Sedums are succulents and ought to be very tolerant of drought but I find that not all of them are. As a broad rule of thumb, the smaller, creeping types are more successful such as Sedum ochloreucum and Sedum sieboldii. The taller types with flower heads such as Sedum telephium are more ornamental: it is a question of trial and error as to which will survive in your garden. If they do thrive then all the care they require is a trim of flower stalks in spring.
Sternbergia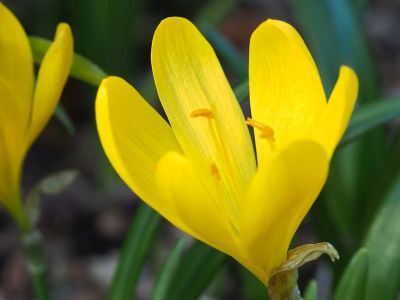 Sternbergia lutea
Not actually a crocus, despite the shape of the flower, but it is more closely related to Narcissus. A bulb native to southern Europe. Whilst it enjoys summer warmth it is best with some shade.
Tulbaghia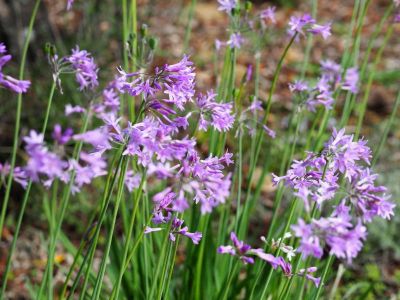 Tulbaghia violacea
Sometimes known as 'Society Garlic', Tulbaghia violacea is a very useful plant for its late flowering - it is in bloom now - and its resistance to drought. It can also take a little shade so can live happily underneath trees. The plant grows as a clump of small bulbs with leaves about 30 cm tall and spreads slowly. The mauve coloured flowers are carried above the onion-like foliage and mix very nicely with ornamental grasses such as Stipa tenuissima. There is also a white-flowered form 'White Goddess' and a variety with variegated leaves 'Silver Lace'; this latter has less abundant blooms and is frost tender.
The photo at the top of the page shows Cyclamen hederifolium
Many of these articles first appeared in the Castiglione del Lago monthly newsletter "Qua e là" edited by Priscilla Worsley
All text and photographs © Yvonne Barton unless stated otherwise