Design - Pure gold - October 2017
What would you say is the most valuable product of Umbria? Wine … olive oil …. Trasimeno beans? My guess is Saffron.
The deep golden stamens of Crocus sativus are the most expensive spice in the world and worth many times their weight in gold. It takes hundreds of flowers to make a single gram of saffron.
Returning Crusaders brought the crocus corms to Italy in the 13th century. Ever since then, Citta della Pieve has been a centre for growing crocuses for saffron in Umbria. Originally used to dye cloth, today we use saffron to add that special something to risotto.
The choice of autumn flowering bulbs is immense. So why do we see so few in the gardens here? Many bulb types are either native to southern Europe or come from the mountainous steppe of central Asia where the summers are baking hot and winters freezing cold -just like Umbria. I try to select bulbs that are close to the wild original.
So, this gives us a clue about which autumn flowering bulbs will thrive here: Crocus speciosus and Colchicum are taller and more showy than saffron, and deserve a place in our gardens.
Colchicum (Autumn crocus) are Crocus on steroids. These bulbs are bigger and more flamboyant than the more familiar little crocus. There are many varieties, each bigger and blowsier, in pinks and mauve, often with interesting patterns on the petals. The flowers grow to around 15cm tall and usually arrive and fade before the leaves appear. They deserve a place in your garden, so why not pop some in the edge of a flower bed under a shrub or in a pot where they can surprise and delight at the end of the season.
And don't overlook the bright yellow Sternbergia lutea (see above) which grow wild on corners of the roads around here (why always on a corner I wonder?). Sternbergia resemble crocus but are in fact a separate family. The surprise of finding these bright little flowers is cheering at a time of year when we expect everything to be dying down for winter. Keats had a keen eye for the joys of autumn. Here is his famous poem To Autumn.
For me the surprise and delight of discovering the tiny cyclamen Cyclamen hederifolium never fades. They grow wild in the woods above Lake Trasimeno and I have even seen them peeping out from crevices in the white rocks of the Aspromonte in Calabria. I grow them under the shade of trees where they enjoy burying themselves under the leaf litter in summer: their pink flowers light up in the low-angled sunlight of autumn.
For dramatic effect it is hard to beat the tall Drimia maritima (also called Urginea maritima), a native to the Mediterranean that can often reach 2m in height. I have seen them growing wild in Sardinia, shooting out of ground that looks nothing more than charred rock. The bulbs are vast and need to be planted with their tips out of the ground. They will probably not flower in the first year but I think worth waiting until next autumn for such a display.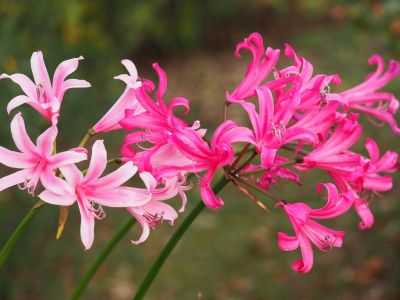 Nerine 'Isabella'
An elegant autumn-flowering bulb is Nerine, native to South Africa. These are best planted in spring: I find they are easier to manage in a pot. The soft-pink variety Nerine bowdenii is reportedly the most hardy type. The ones I planted (Nerine Isabella) took three years to flower.
Last but not least: the little violet flowers of Tulbaghia bloom right through summer to greet the autumn crocus. They create a lovely soft effect when planted alongside grasses and ornamental salvias.
So many lovely autumn bulbs … why not give them a try?
The photo at the top of this page shows Sternbergia lutea growing wild on a bank near Panicale
Many of these articles first appeared in the Castiglione del Lago monthly newsletter "Qua e là" edited by Priscilla Worsley
All text and photographs © Yvonne Barton unless stated otherwise
website designed and maintained
by Hereford Web Design