Plant of the Month - May
The abundance of flowers in the garden now is almost overwhelming: this is the high point of the gardening year.
Centranthus ruber - Valerian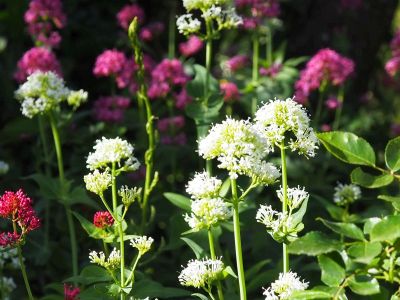 Centranthus ruber red, pink, white and mauve
Valerian is a very popular plant for bees and butterflies. It is easy to grow as it self-seeds freely around the garden, finding a home in crevices of rocks and paving. Centranthus ruber is native to the Mediterranean region and has pink-red flowers; it grows wild by the roadside near my house. For the garden there are also varieties with colours ranging from white through mauve to pink. Flowering in May and June then again in September, it is a good idea to trim back flower stems in summer to keep the plant tidy.
Cistus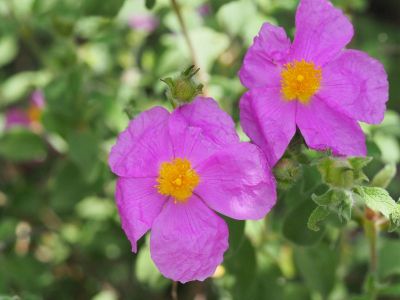 Cistus albidus in the wild
The Cistus or rock rose bears delicate papery petals which bely its rugged constitution. In the hills and woods around Lake Trasimeno cistus thrives in the wild: C. salvifolius in late April with white flowers followed by C. albidus with mauve-pink flowers.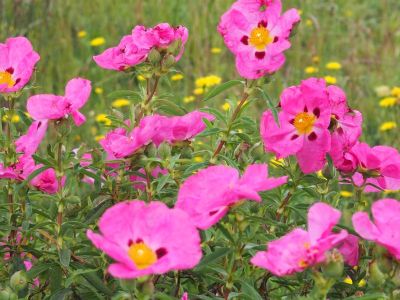 Cistus x purpureus
Garden varieties bloom mostly in May but C. x tardiflorens waits until June. Colours range from white through to deep pink and yellow; my favourites have the dark 'splodge' or macchia, like C. x purpureus. Leaves are evergreen but may fall in times of climatic stress; there are many different tones of green and grey which make interesting textures at other times of the year. Many Cistus are of modest height and become a compact shrub but some can get to almost 2m and make a bold statement such as C. ladanifer (easy to spot with its sticky leaves). Many are allelopathic and supress weeds. Cistus needs well-drained soil if it is to withstand winter cold and it doesn't need watering - ever.
Cotinus - Smoke Bush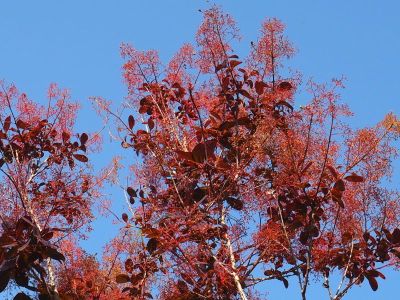 Cotinus coggygria 'Royal Purple'
Native to our region, Cotinus can be seen in its native form thriving on the rocks on the road up to Norcia. A deep purple leaf variety is a great help in dry garden design: not only does the dark colour have a calming effect on the silvery tones of many macchia plants but also the soft 'smoke' efflorescence is very attractive. This shrub can grow quite tall so take down the occasional branch to near the base in early spring.
Gladiolus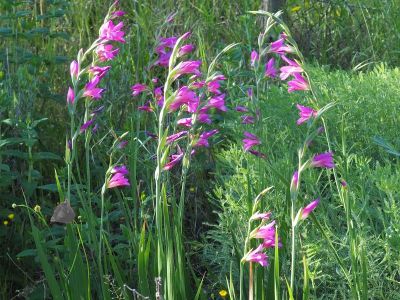 Gladiolus byzantinus
These gladioli are native to our area – they grow wild in the olive grove here - but look sophisticated in the flower border. Once planted they come back in future years but are not invasive. Distant ancestors to Dame Edna Everage's favourite flower.
Helichrysum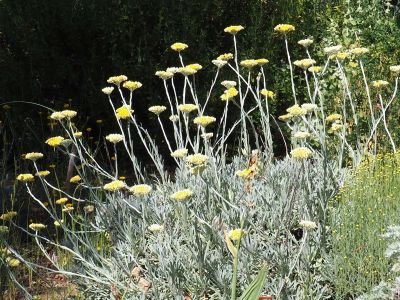 Helichrysum orientale
The Curry Plant or Helichrysum italicum is native to our area and I find that it a stalwart in the dry garden; indeed, it resents cold heavy soil in winter. More elegant with its broader downy leaves is Helichrysum orientale. Forming a low, domed clump, this plant needs little attention other than perhaps a little trim in autumn.
Iris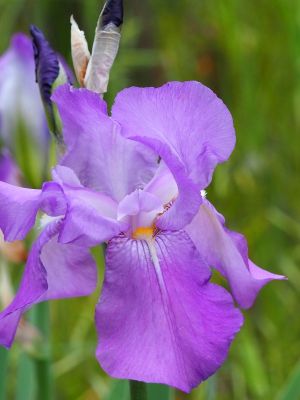 Tall Bearded Iris 'Thais', one of the earliest in bloom
The symbol of the city of Florence, the iris has long been a favourite flower here in central Italy. The native 'giaggioli' iris has been used to make orris, the basis for perfumes, at the antique Santa Maria Novella convent since 1221. Tall Bearded Irises are easy to grow in our climate and there is a fantastic range to choose from. They are called 'tall' because the flowers grow to more than 70cm and 'bearded' because of the furry tuft inside the flower. They are rhizomes not bulbs.
Lonicera - Honeysuckle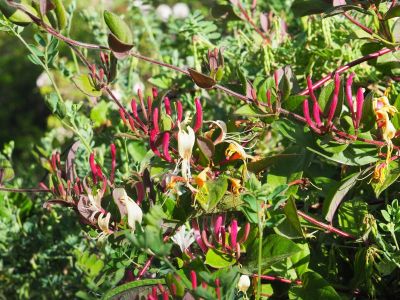 Lonicera japonica
Honeysuckle is native to Italy and provided you can give the roots some shade it should grow high up into a tree. There are several varieties of honeysuckle available locally including Lonicera japonica and the less vigorous Lonicera etrusca.
Philadelphus - Mock Orange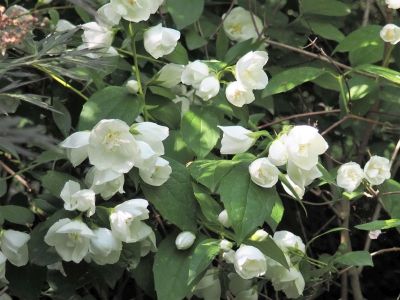 Philadelphus coronarius
A tall deciduous shrub that does surprisingly well here provided it can have shaded roots. The scented white blooms are popular for wedding bouquets. Prune immediately after flowering, taking a few tall stems right down to near the base.
Phlomis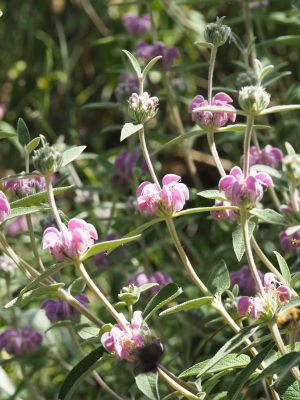 Phlomis purpurea
Phlomis is an immensely useful shrub for the dry garden. The most common variety, native to Italy, is Jerusalem Sage (Phlomis fruticosa) which grows very large and has unsophisticated bright yellow flowers. More interesting is the less vigorous Phlomis purpurea with pink flowers (native to Portugal); there is also a white variety. There are softer yellows in varieties such as 'Le Chat' and the less floppy Phlomis 'Edward Bowles'. If you need to trim them then it is best done in autumn after rain – the very fine seeds given off can be very irritating when breathed in and become less volatile when damp.
Rhaphiolepis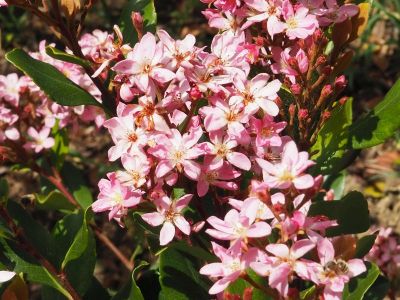 Rhaphiolepis delacouri x indica 'Apple Blossom'
Indian hawthorn, Rhaphiolepis is a slow growing but very pretty shrub with glossy evergreen leaves and soft pink blooms. It is originally from southern Asia and reaches about 1m in height. Once established it needs no particular attention.
Classic roses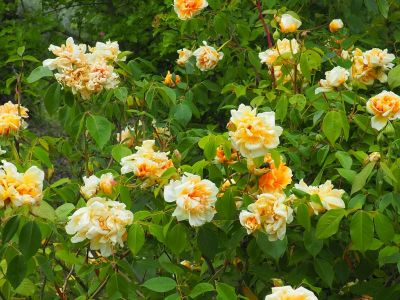 Noisette rose 'William Allen Richardson'
Most roses bloom for at least some of their time during the month of May. Go here for a round-up of the types of roses that I find do well in our area.
Sambucus - Elderflower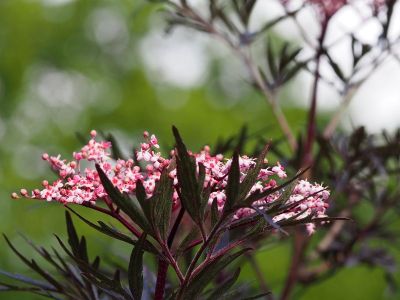 Sambucus nigra 'Black Lace'
Common Elderflower is native to Italy but there are some interesting varieties for the garden with dark feathery leaves and pink flowers: 'Black Lace' is particularly attractive. Trim back after flowering if you need to contain its growth, otherwise let it reach its full glory.
Satureja thymbra - Santoreggia (Savory)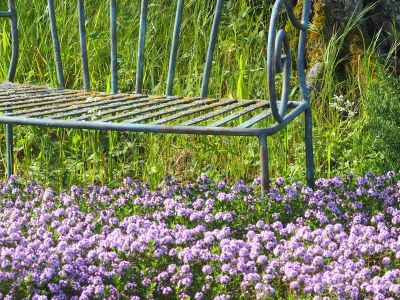 Satureja thymbra carpet in front of a bench
A resilient ground cover plant that spreads easily. The carpet of purple flowers is a joy in spring but the plant can look a bit 'burnt out' in August. A native to hills and mountains in the Mediterranean region.This perennial has aromatic leaves which can be eaten as a herb but usually considered too strong to be palatable.
Scabious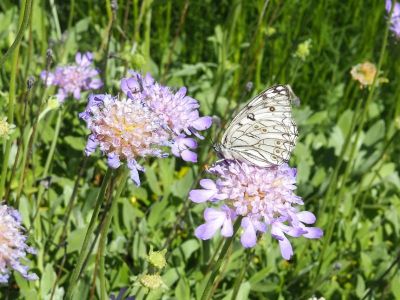 Scabious creticus with Marbled White butterfly
The scabious are unbeatable plants for attracting flying insects: the ones in my garden are always covered with a great range of butterflies, bugs and moths. The seedheads are also attractive. The plants do not like to be pruned: just remove the whole plant when it becomes too woody and you will find self-seeded plantlets underneath. This plant has been renamed Lomelosia in recent years and I have no idea why.
The photo at the top of this page shows Cistus skanbergii
Many of these articles first appeared in the Castiglione del Lago monthly newsletter "Qua e là" edited by Priscilla Worsley
All text and photographs © Yvonne Barton unless stated otherwise