Design - Roses
Roses are easier to grow in Umbria than perhaps you might expect: the key is to choose a variety that is suited to our conditions and not to expect it to be in bloom all summer. Most of these roses need little pruning, no watering and just a tidy up and feed in winter.
Native to our area is the Dog Rose (Rosa canina) which blooms early in spring and sets ornamental hips in autumn. It is a large shrub, so not for small gardens, but very worthwhile if you have the space.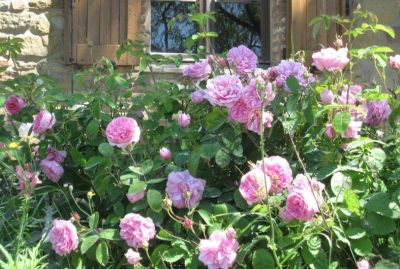 The Unknown Rose during its brief moment of glory
Many of us in this area have 'inherited' unknown, unnamed roses, some of which are very lovely and have the great attribute of surviving any amount of neglect. In my garden there is an old-fashioned looking shrub rose with classic pink flowers that is magnificent for all of one week per year but awfully scraggy the rest of the time. Whilst I often think about ripping it out, I always give it a reprieve as it has been here longer than me.
If you are in of need inspiration then head for Ninfa, south of Rome, where the gardens are designed around an abandoned mediaeval town. There the roses cascade over the ruined walls and know no bounds. Probably the most lovely garden in Europe.
Here are some rose families that I find do well in our climate. Most but not all of them are 'classic' roses so there are some modern hybrids too.
Banksiae
Rosa banksiae lutea is found in almost every garden in our area. It is usually the first rose to bloom and has thornless stems. It is a rampant climber and can cover an entire building if you let it. The small double yellow flowers are not scented. There are others in the banksiae family which are strong and thornless (but not quite so rampant) that deserve consideration: R. banksiae normalis has single white flowers and R. banksiae lutescens has single yellow scented flowers. 'Purezza' is a hybrid between banksiae and noisette with double white flowers which reblooms in autumn.
China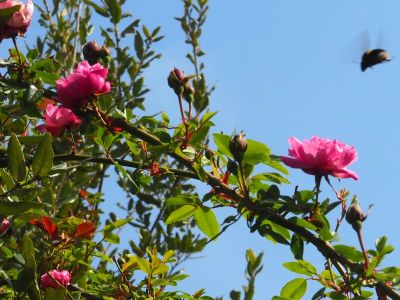 Old Blush Climbing in March at the top of a Holm Oak with a bee landing
China roses, Rosa chinensis, were brought to Europe from China in the late 18 century and introduced repeat flowering – prior to this all roses bloomed only once, in spring. Yellow tones in roses also often come from chinas. Chinas show strong drought resistance but perhaps are a little tender to cold; Chinas are best not pruned. The first of the chinas was 'Old Blush' which I have growing through a Holm Oak and which often flowers in mid-winter. There are several chinas to choose from and my favourites include Mutabilis (shrub with flowers that change colour as they age, from yellow to orange to red); Cécile Brunner; Papillon; Pompon de Paris; Sanguinea, Viridiflora (green-ish flowers).
Tea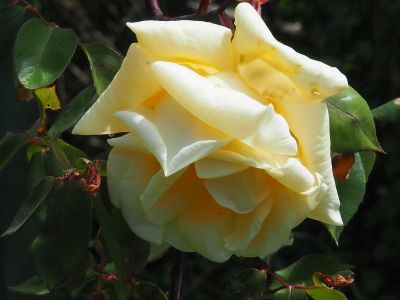 Lady Hillingdon Climbing
Tea roses (not to be confused with Hybrid Tea which are a cross between Tea and Hybrid Perpetual roses) originated in China and are well suited to dry gardens. Many have been found to survive in Australian gardens without irrigation, as researched in the book 'Tea roses: Old Roses for Warm Gardens' - the discovery of this publication set me on the path to growing roses here. My favourite rose perhaps of all is the climber 'Lady Hillingdon': a soft amber colour, delicate petals and honeyed scent. Repeats in autumn. Others Tea roses to try: Devoniensis, Gloire de Dijon.
Noisette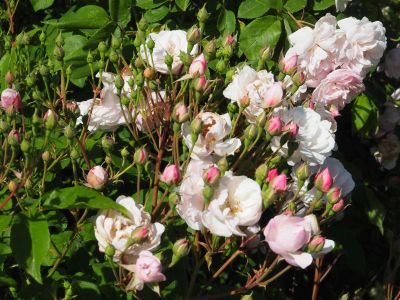 Blush Noisette
Noisettes are a hybrid between Tea roses and an old china, created by the Noisette brothers in the USA in the early 19 century. They repeat flower. I find they do very well here. Blush Noisette was the first of its kind; it grows into a tall shrub and never requires watering. Other noisettes to try (all tall climbers which tolerate a north aspect): Alister Stella Gray, Desprez à Fleurs Jaunes, Mme. Alfred Carrière, William Allen Richardson.
Wichurana ramblers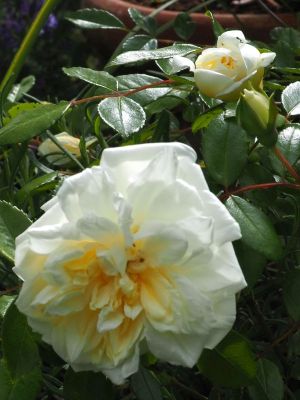 Alberic Barbier
Alberic Barbier is a rose from my childhood: it grew over the pergola in our garden. It is very vigorous with shiny dark foliage and lovely double flowers, and repeats a little (not always) in autumn. It can take some shade. Also in the family are Paul Transom, Excelsa, New Dawn.
Other classic ramblers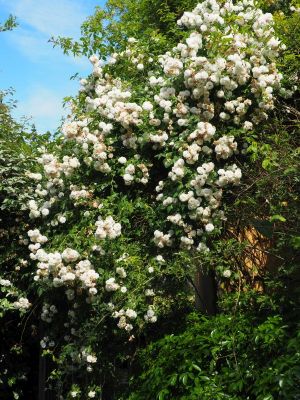 Félicité et Perpétue
Félicité et Perpétue is an extremely useful rose because not only does it tolerate drought and shade but it also blooms later than all the others - usually well into June. Paul's Himalayan Musk is the huge rose next to the pond. Also in this group is Rambling Rector: a very vigorous rose with single white flowers … and a cool name.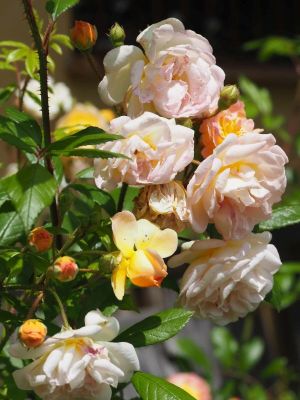 Ghislaine de Feligonde
One of my favourite roses, Ghislaine de Feligonde is a short climber/tall shrub that can tolerate shade as well as drought. The flowers start rich apricot buds and lighten as they open. Best left unpruned.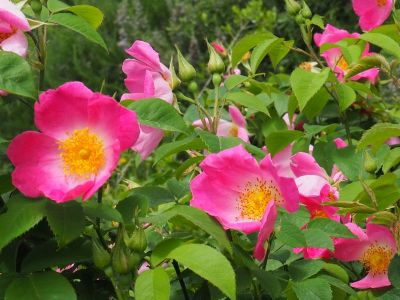 Complicata
Very useful for 'difficult' corners or hedging is 'Complicata', a Gallica with nicely shaded pink, single (uncomplicated) blooms and autumn hips. It has a spreading rootstock.
I am not sure if 'Phyllis Bide' counts as a 'classic' rose but it has a long flowering season and is adaptable: well worth a try.
Modern hybrids
In central Italy the leading modern rose breeder is Rose Barni at Pistoia. They have many new, interesting varieties but sadly they never seem to survive with me – which is a surprise given that they are born and raised nearby. David Austin retails his roses via Quando fioriranno le rose at Assisi: it is worth getting your English Roses from them because they are grafted onto rootstock that is better suited to local conditions than the plants you buy from Austin in UK (for example, the climbers are taller). The main modern rose seller around here though is Meilland who have created many of the famous roses we have all heard of. In the dry garden I have had some success with their Sally Holmes, also with Pierre de Ronsard, Astronomia, Leonardo da Vinci, Mona Lisa, White Meilland.
The photo at the top of this page shows Zéphirine Drouhin, a thornless Bourbon climber, on a north facing wall
Many of these articles first appeared in the Castiglione del Lago monthly newsletter "Qua e là" edited by Priscilla Worsley
All text and photographs © Yvonne Barton unless stated otherwise
website designed and maintained
by Hereford Web Design