Plant of the Month - June
Summer has really arrived but officially not until the summer solstice on 21 June which is also the longest day.
Ballota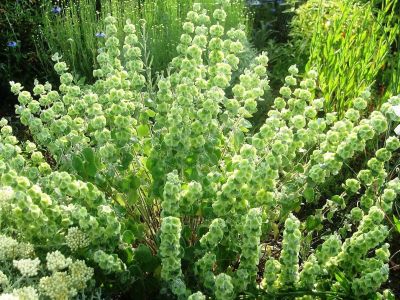 Ballota pseudodictamnus
Ballota is a reliable plant for the dry garden. It not very showy and is more about form and texture than colour: the tiny pink flowers are hard to see. The variety Ballota pseudodictamnus is my favourite as it is taller (60cm) and the leaf structures are more clearly defined, but the neater Ballota acetabulosa is easier to find in the local vivaio. Native to the Eastern Mediterranean, Ballota is very drought and cold resistant and only needs a trim in autumn.
Clematis viticella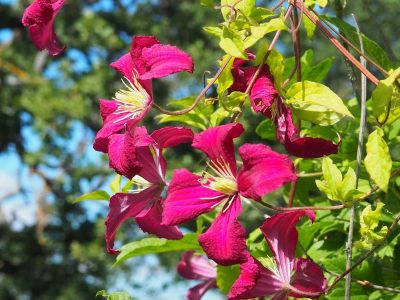 Clematis viticella 'Madame Julia Correvon'
Clematis viticella 'Madame Julia Correvon', which I planted years ago and thought I had lost. It appeared again the other day, growing up through a Viburnum: a lovely surprise. The 'viticella' group of clematis is more resistant to hot dry weather than the larger flowered hybrids. Hard prune in autumn.
Hemerocallis - Day Lily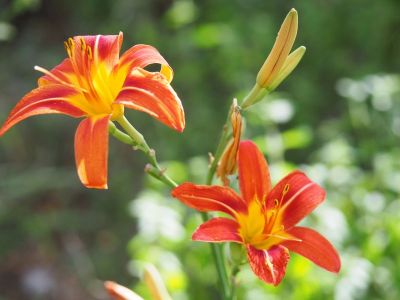 Hemerocallis fulva
Whilst not actually lilies, the Day Lily has an attractive flower that is all too easily overlooked as 'common'. It is easy to grow as it spreads along fibrous roots and tubers which help it withstand extremes of drought and cold. Each flower only lasts one day, hence the name, but many buds on a stem means that flowering is continuous. The name Hemerocallis comes from the Greek "hemera" = day, "kallos" = beauty. Originating in East Asia, the native species Hemercallis fulva is a 'tawny' orange shade, but there are many thousands of hybrids with different colours ranging from pale pink through yellow to ruby red. The plant dies down in winter – at which point it is easy to lift and divide the clumps – but reshoots in spring. I plant Day Lilies alongside spring bulbs such as daffodils as they cover the spent foliage of the bulbs; they can also tolerate some shade and so do well under a pergola. And better still, you can eat the flower buds: try them stir-fried.
Hypericum - St John's wort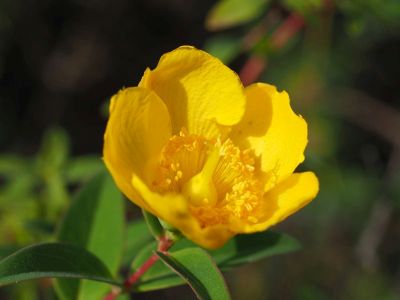 Hypericum x hidcoteense 'Hidcote'
For such an exotic looking flower, Hypericum are surprisingly resistant in the dry garden and the variety I have (I think it is 'Hidcote' but am not sure) never gets watered. A neat shrub with reddish stems that doesn't get much taller than 1m. I do absolutely nothing to it.
Kniphofia - Red Hot Poker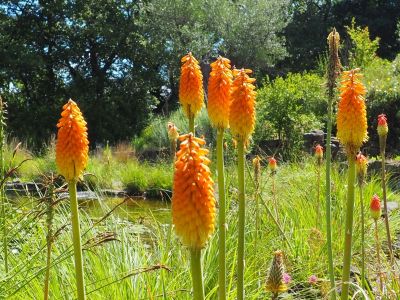 Kniphofia
Perhaps a cliché in English gardens, Kniphofia are native to South Africa and are useful for making a design statement in the dry garden with their tall spires. I am not sure what variety the ones are in my garden, but they seem to cope well with clay in full sun and self-seed everywhere. If you shop around there are varieties available with more subtle flower colours - not just bright orange.
Lavender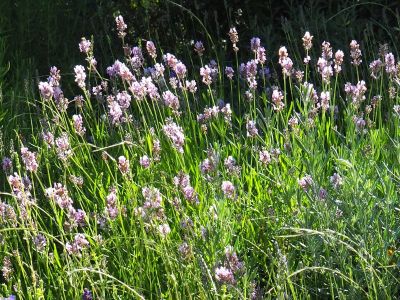 Lavandula angustifolia 'Hidcote Pink'
Lavender: a plant more redolent of the Mediterranean life is hard to imagine. Even with Lavender it is best not to plant all the same – there are lots of varieties. If you are short of inspiration the get over to Il Lavandeto at Assisi where they are holding a festival. Lavender types that do well in our area include L. angustifolia e.g. Hidcote Blue, which has compact growth and intense blue flowers; or L. x intermedia e.g. Grosso, which is a bit more drought resistant and taller. Both these come in lots of different colours: white, pink, blue, purple. I have a corner of my garden planted with seven different Lavenders, including tall L. dentata and showy L. stoechas. They are covered with butterflies. Do you find that lavender is a short-lived plant? The key is not to water it EVER (once established) because it is very susceptible to fungal afflictions. To keep the plants looking nice, trim back in autumn to just above the old wood.
Lilies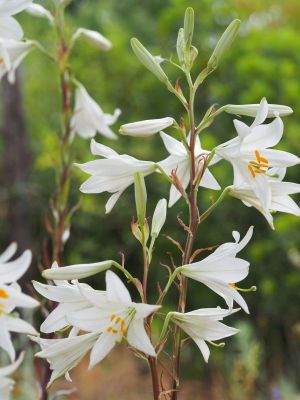 Lilium candidum - Madonna lily
Many lilies are in bloom this month. Madonna lily (Lilium candidum) is a native plant that deserves to be grown more widely. As seen in Italian renaissance paintings, this lily represents purity and it has an almost over-powering scent. It is unusual in that the (large) corms are planted near to the surface and the leaves appear in autumn. After flowering, cut off the seed-heads to allow the corm to regenerate and leave the stems until they dry out.
Lychnis coronaria - Rose campion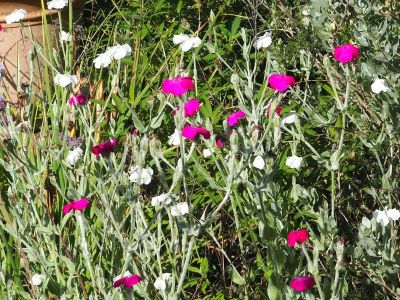 Lychnis coronaria - red and white
Lychnis is a cottage garden plant that adapts well to the dry garden. It is a very short-lived perennial and it essentially re-seeds each year. The leaves are silver and felty; the flowers are usually a strong magenta but there is also a white variety. Grows to around 80cm tall.
Salvia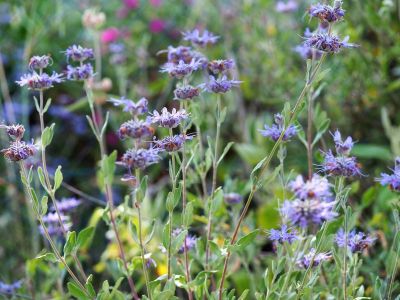 Salvia 'Alan Chickering'
There are several spring-blooming salvia or sage varieties that originate from Europe which are very attractive and thrive in the dry garden (the autumn flowering ornamental types originate in the Americas). Apart from the familiar culinary sage, there are for example Salvia lavandulifolia subsp. blancoana which has a mat-forming growth habit; taller Salvia sclarea (Clary sage) which re-seeds itself readily; Salvia 'Alan Chickering' which has unusual tufty flower heads. All these are drought resistant and only need the occasional trim.
Santolina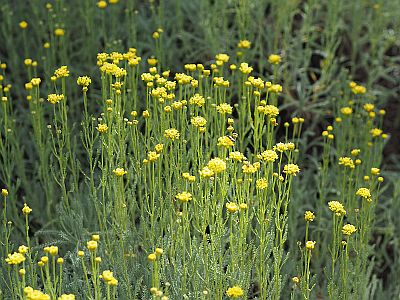 Santolina benthamiana
Many people actively dislike Santolina, or at least the common type Santolina chamaecyparissus, both for its sickly smell and the bright yellow flowers - some even go as far as to cut the flowers off. But there are other types of Santolina which are much more appealing. Santolina viridis 'Primrose Gem' has green foliage and pale-yellow flowers. Santolina rosmarinifolia 'Caerulea' has dark blue-green slender foliage and rich yellow flowers. Santolina benthamiana has pale silvery-green foliage and cream flowers; it gets quite large so makes a useful plant for the dry garden. All Santolina are native to Europe and are highly drought tolerant. Trim all Santolina in autumn to keep them a rounded compact shape.
Tanacetum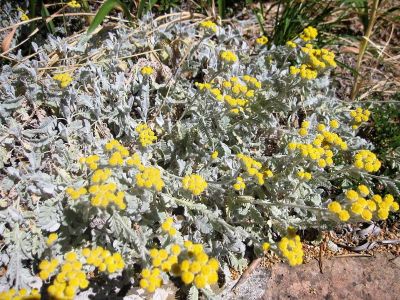 Tanacetum densum subsp. amanii
A very useful ground-cover plant, Tanacetum has a creeping habit and extreme tolerance to drought. The feathery little silver leaves are ornamental and the variety 'Beth Chatto' especially so. The small yellow flowers are nice enough but not the main appeal of this plant. Native to Anatolia and requires perfect drainage. No need to do anything to it at all.
Teucrium - low growing types
Teucrium divaricatum
There are several lower-growing Teucrium (as distinct from the tall shrubby Teucrium fruticans) which all originate from the Mediterranean and are invaluable in the dry garden. The flowers range in colour from white through yellow, pink and purple, and leaves are silver or dark green. These types of Teucrium tend to bloom only once but they also set seed.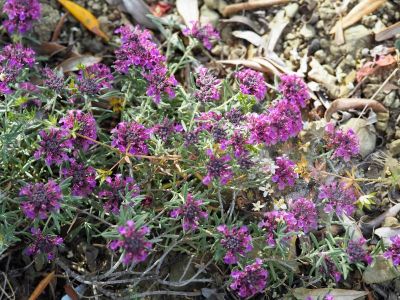 Teucrium ackermanii
Tiny Teucrium ackermanii and Teucrium aureum are good for the cracks in between paving. Teucrium flavum and Teucrium chamaedrys (Wall germander) are a little taller and can be used as a small hedge. Pink flowered Teucrium divaricatum and Teucrium marum look good in the gravel garden. All these Teucrium are best with a trim in autumn to keep them tidy.
Verbena venosa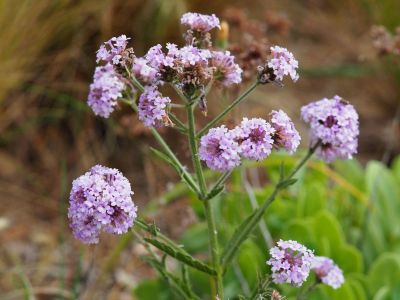 Verbena venosa 'Lilacina'
In recent years, Verbena bonariensis has been a 'go to' plant for garden designers. Sadly in my garden although it does well to begin with it, often fades away in a cold winter. More resilient is its cousin Verbena venosa. Native to South America, it has a creeping growth habit and is not so tall (yes I know that the attraction of V. bonariensis is the tall wafting flower heads but you can't have everything). The basic form of this plant has flowers of a very strong violet-purple which can be tricky to use. Softer coloured 'Lilacina' works very nicely with grasses such as Stipa.
The photo at the top of this page shows a Hindu goddess from Indonesia surrounded by lavender Lavandula x intermedia 'Grosso'
Many of these articles first appeared in the Castiglione del Lago monthly newsletter "Qua e là" edited by Priscilla Worsley
All text and photographs © Yvonne Barton unless stated otherwise