Senses - Touchy-feely - January 2022
An Australian gardening friend sent me a photo of her garden which features a Kangaroo Paw plant (Anigozanthos flavidus). It took me immediately back to the time I visited Perth, WA and saw these in the Kings Park & Botanic Garden. It was the first time I had really thought about plants being classified by how they felt to the touch rather than what they look like. I am sure that there are some foods that you dislike because of the texture - rather than taste - and so it must be for plants too.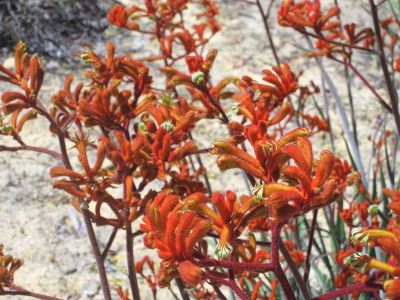 Kangaroo Paw in Perth WA
Kangaroo Paw flowers look very soft but actually the fine hairs are rough. Of course, I have never stroked a Kangaroo so I don't know if they are the same.
Banksia pavement design in Perth Botanical Garden
Western Australia has a magnificent and unique flora - over 3,000 plants that are found nowhere else on earth - but many of them do seem to have a peculiar 'texture'. The Perth Botanical Garden has a vast collection of native Banksia and the paving around the park benches has designs in mosaic of their jagged leaves and bristly flowers.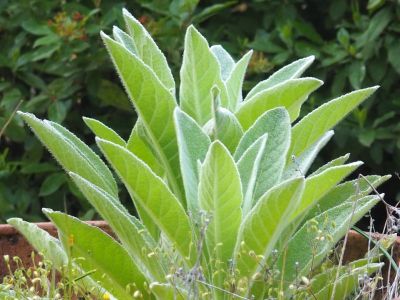 Spring foliage of Verbascum Thapsus (Great Mullein)
Here at home I prefer soft plants. Velvet leaved plants include Stachys, Ballota, Salvia argentea, Phlomis, Verbascum Thapsus (Great Mullein). Grasses can have a feathery softness and many Artemesia have fluffy silver foliage.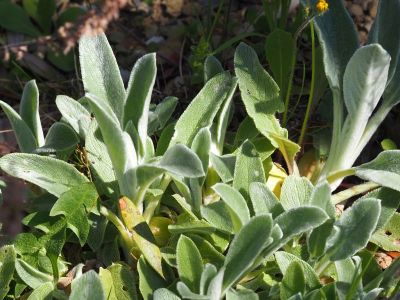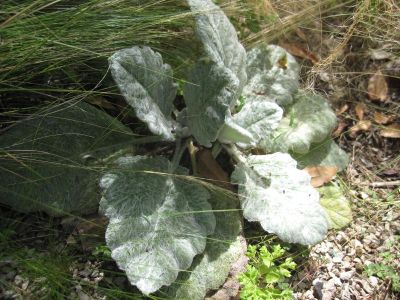 Salvia argentea
I have to draw the line at Cactus - just too prickly. Having said that, it is well worth a trip to Giromagi at the Torontola interchange on the superstrada. The cactus are in bloom in summer and the variety of textures and patterns is very impressive and ornamental. Cactus flowers can be very lovely but the spines are off-putting. Giromagi do mail order cactus … just imagine receiving such a prickly parcel in the post.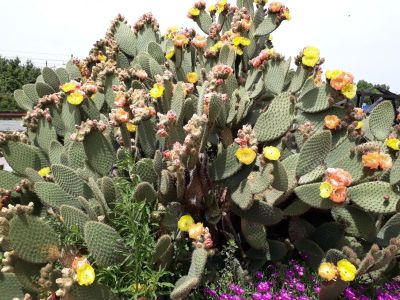 Opuntia cactus in bloom in June at Giromagi
Recently I was - temporarily - unable to see. The brilliant doctors at Silvestrini sorted me out very quickly, thank goodness, but I did have time to reflect. It got me thinking about how I would cope if I suddenly was without sight. Could I manage the garden? Could I experience the garden? Could I remember the garden?
I reckoned that I could find my way around by recognising the feel of the plants, and of course their scent. So I did a little trial: a touchy feely walk around using the sensation of touch to guide me.
Clematis by the front door has a rough main stem ... Erigeron in the bed around the olive tree has soft fine-cut leaves and little daisy flowers (even now in January) but also sharp twiggy stems perhaps left from last year.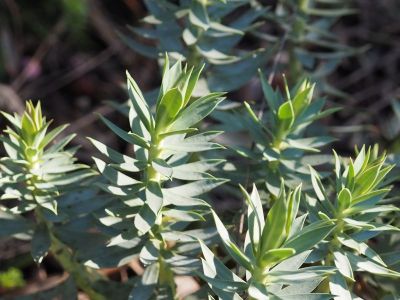 New bracts of Euphorbia rigida
Euphorbia rigida in the gravel ought to be stiff and spiky but in fact the newly unfurling bracts are soft.
The big rose bush blocking my path is Zephirine Drouhin - which I had chosen in part because it is virtually thornless, and I am now glad that I did.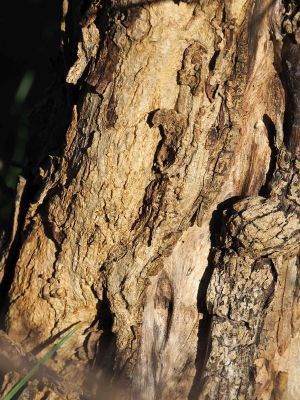 Bark of a pomegranate tree
I bash into the pomegranate tree - and find deeply incised bark and fierce thorns.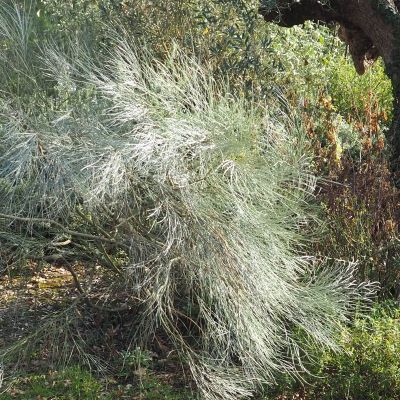 Mount Etna broom (Genista aetnensis)
Mount Etna broom (Genista aetnensis) has fine narrow leaves which are smooth and a little pliable. No exactly soft but very distinctive to the touch.
Wisteria has surprisingly rough bark on its main stem. The whippy side branches hit my face.
At last I arrive at the lavender hedge on the edge of the terrace, where I will stop. The lavender bushes are a bit stubbly having been trimmed in October, but they still give off their characteristic scent when stroked.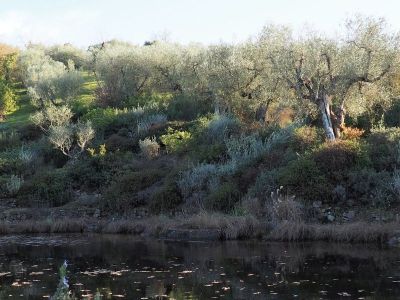 View from the terrace in January
As I contemplate the scene, I cherish the sight of the garden as if it were for the last time. Sadness and joy intermingled. In the end, I am just a soft touch really.
The photo at the top of this page shows a close-up of an Opuntia cactus in bloom in June at Giromagi
Many of these articles first appeared in the Castiglione del Lago monthly newsletter "Qua e là" edited by Priscilla Worsley
All text and photographs © Yvonne Barton unless stated otherwise