Senses - Spirit
"Roses are red ... - February 2023

... violets are blue. Sugar is sweet and so are you."
Umbrian saint Valentine is celebrating his day as I write. He was in fact Valentine Bishop of Terni, an early Christian martyr executed at the command of Romans Emperor Aurelian on 14th February 273. He is buried in the Basilica at Terni – or at least some him is, there are bits of him to be found in sacred locations all across Italy.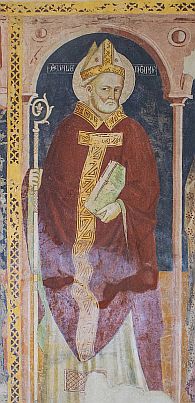 San Valentino (16th century fresco); Chiesa di Santa Maria del Monumento, Terni
Valentine was said to have been a gardener and brought couples together through his gifts of flowers – offering a rose to a fighting couple and telling them to love one each other as if they had only one heart.
But the celebration of love on 14 February is now thought to derive from a Roman pagan festival Lupercalia in mid-February when spring was about to arrive. The Christian church instituted a celebration that was rather less bawdy than the pagan rite.
Red roses are often a part of the St Valentine rituals. But how can that be when the only way to get roses in bloom in mid-February is either to grown them in a hot house or fly them in from Africa?
Flowers have had symbolic meanings for centuries and the colour of traditional red roses represents passion. The red rose first emerged in Greek and Roman iconography, where it was tied to Aphrodite, or Venus, the goddess of love. In Greek mythology, it is said that rose bushes grew from the ground through Aphrodite's tears and the blood of her lover, Adonis. Later, in early Christian times it became associated with the virtue of Virgin Mary.
The tradition of giving Valentine's Day flowers is said to date back to the late 17th century, when of King Charles II of Sweden visited Persia, and was introduced to the language of flowers. But I can't help thinking that giving roses in February has to be a modern (commercial) invention.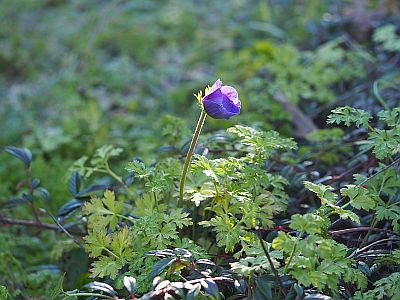 Anemone coronaria in the winter sunshine
In February, the garden is in a state of suspension, anticipation. 'Con il fiato sospeso'. Waiting to see if spring is really around the corner or whether we are about to be subjected to another cold blast.
Heaven help us - October 2019
It's that time of year again. My phone keeps ringing with yet another courier who can't find the house. Did I really order all this stuff? Boxes of plants and bulbs are flooding in, and I can't seem to remember where I was going to put it all, nor indeed how I am ever going to find the strength plant them.
But plant them I must and no putting it off. On the brink of despair, I call on the heavens for help and strength. But who should I call? Who is the Patron Saint of Gardeners? There are several to choose from.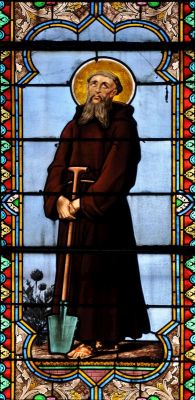 Saint Fiachre
An Irish saint from the 7th century, Fiachre became an authority on healing herbs and plants. So great was his fame that he moved to France to escape his followers (there's nothing new under the sun!). When he established his monastery, he was allowed as much land as he could entrench in one day. Fiacre turned up the earth with the end of his staff, toppling trees and uprooting briers and weeds. I could do to borrow that staff for my garden …
But St Fiachre is also known to have been something of a misogynist; he did not allow women anywhere near his hermitage and chapel. As a result, he is often called upon to cure venereal disease. I don't think he is the saint for me.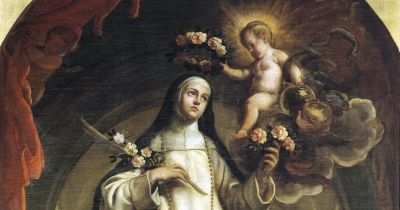 Saint Rose of Lima
Her great beauty gave this saint the name Rose. She lived in Peru in the 16th century and spent her life of piety indulging in what today we would term self-harm, often trying to mutilate that beauty. She is patron of gardeners and florists because of her name and nothing to do with gardening.

Let's look for a female patron saint with whom there is at least some connection with flowers.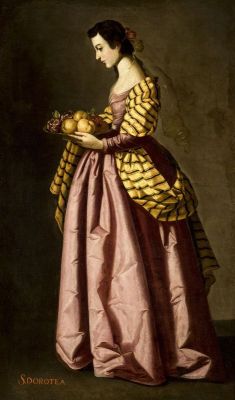 Saint Dorothy of Caesarea
An early 4th century saint, Dorothy is said to have been martyred by Diocletian. On her way to the place of execution the pagan lawyer Theophilus said to her in mockery: "Bride of Christ, send me some fruits from your bridegroom's garden." Before she was executed, she sent him, by a six-year-old boy, her headdress which was found to be filled with a heavenly fragrance of roses and fruits. Theophilus at once confessed himself a Christian, was put on the rack, and suffered death.
I would prefer a saint who has some 'hands on' experience of gardening. St Phocas sounds promising …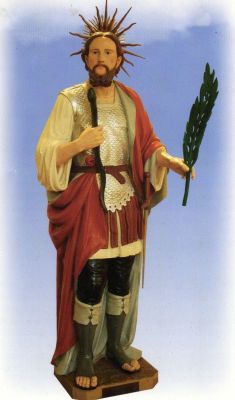 Saint Phocas the Gardener
In third century Sinope on the Black Sea, Phocas lived by cultivating a garden and used his crops to feed the poor and aid persecuted Christians. During the persecutions of Diocletian, he provided hospitality to the soldiers who were sent to execute him. The soldiers, not knowing that their host was their intended victim, agreed to his hospitality. As the soldiers slept, Phocas dug his own grave and prayed. In the morning, when the soldiers awoke, Phocas revealed his identity. The soldiers hesitated and offered to report to their commander that their search had been fruitless. Phocas refused this offer and bared his neck. He was then decapitated and buried in the grave that he had dug for himself.
Not sure about digging my own grave. Surely there must be a saint who is inspirational without requiring such self-sacrifice?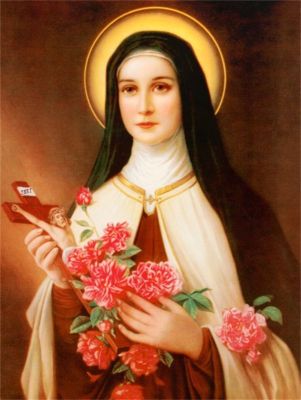 Saint Thérèse of Lisieux
Patron of florists, she lived in the late 19th century. A French Carmelite nun who is widely venerated in modern times. She is popularly known as "The Little Flower of Jesus" and died at the age of 24, from tuberculosis.
But in the end I feel myself drawn most closely to our two local saints, Francis and Claire, who evoke such strong feelings for roses and – better still – whose Assisi gardens we can actually visit and enjoy. Real 'gardeners' in spirit who I feel sure to call upon in the coming days.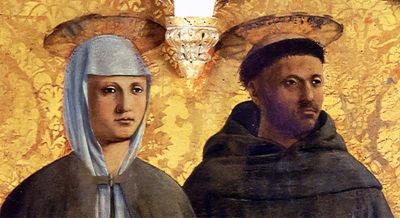 Saint Francis and Saint Claire
Saints and roses

Umbria is known as the 'Land of Saints' (Terra dei Santi). Two Umbrian saints have particular connections with roses: the patron saint of Italy, San Francesco, with his beloved friend, Santa Chiara. They founded the Orders of Franciscans and Poor Claires at Assisi in 1210.
St Francis spent much of his ministry at the Convento Porziuncola in Santa Maria degli Angeli, Assisi. Despite his saintliness, Francis struggled at times with temptation. It is said that in an attempt to rid himself of temptation he threw himself onto a rose bush, but the rose transformed itself into a thornless variety so as not to hurt him.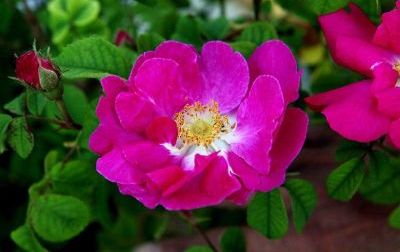 Rosa Canina Assisiensis
The rose still exists at the Convent and is unique, named Rosa Canina Assisiensis. It can be seen there in the small cortile recently replanted by the vivaio 'Quando Fioriranno le Rose'.
Attempts to grow this little rose outside the Convent have failed – it always reverts to its thorny ancestor. Only one example exists and that can be seen at the vivaio, a gift from the Frati Minori di San Francesco - but it cannot be purchased.
Quando Fioriranno le Rose
The name of the vivaio comes from a story about St Francis. He went to visit Santa Chiara in her convent up in Assisi town during winter with snow on the ground. On leaving she asked him when he would return. His reply was 'Quando fioriranno le rose' (When the roses will be in bloom). Upon which roses grew up out of the snow and came into bloom and Santa Chiara presented him with a bouquet.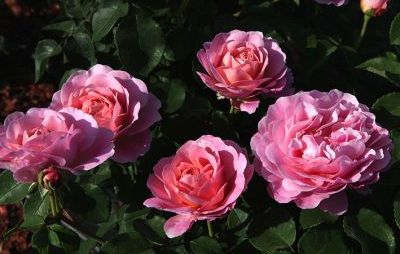 Rose 'Saints Chiara e Francesco'
David Austin has dedicated one of his New English Roses to "Saints Chiara e Francesco" which can been seen at the vivaio.
The photo at the top of this page is Assisi as viewed from the vivaio 'Quando fioriranno le rose'
The illustrations of saints have been sourced from Wikipedia
Many of these articles first appeared in the Castiglione del Lago monthly newsletter "Qua e là" edited by Priscilla Worsley
All text and photographs © Yvonne Barton unless stated otherwise