Senses - Sound
Sounds of summer - July 2018
Summer sun, summer heat and the summer visitors descend upon us. Don't-cha just love 'em?
Such an assault of noise as they go diving into the pool, splashing and shouting; fighting even. Then, in the evening, a cacophony that goes on right into the early hours. And that is just the frogs in my pond.
Go outdoors right now - and yes you can take that glass of wine as usual - and find out who your summer visitors are. You probably won't even need to look: the sounds of them enjoying the delights of your garden will immediately be clear to you.
Nine-spotted moth Amata phegea on scabious
In my garden today I can hear:
The throbbing hum of bees … a whir of a dragonfly's wings … cicadas scratching in the midday heat … popping wisteria seed pods ripening in the sun … shree-shree-shree of swifts … swoosh of swallows … the fluty song of a garden warbler as he tweets about his winter holidays in Africa.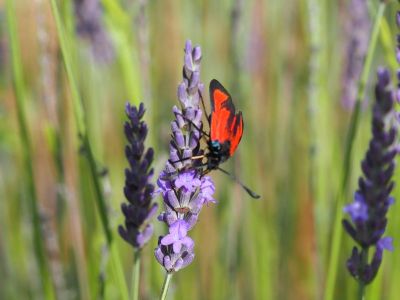 Six-spot burnet moth (Zygaena filipendulae) on Lavendula x intermedia 'Grosso'
I bet that the first place you are drawn to is a lavender bush covered in insects where the sound of humming is probably loudest. But which other plants and flowers attract noisy visitors into your garden? And could you perhaps host a few more?
Buddleia, Nepeta, Verbena, Oregano … and many more are very attractive to insects. Notice that that these are mostly native plants and all of them have little trumpet shaped flowers that the insects recognise and go searching inside. I suspect that your geranium plants are rather quiet.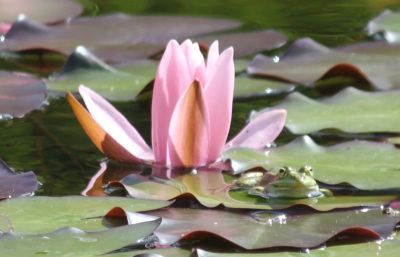 Noisy neighbours
So do we want to encourage all these insects? Yes we do, and not just the 'pretty' ones like butterflies and moths. We all know - or should do by now - that bee populations are under threat with potential disastrous consequences for us humans. But also the 'ugly bugs' like beetles and wasps and - dare I say it - mosquitoes. These insects provide food for many types of birds and amphibians: visitors who come here for the 'grub'. Swallows, dragonflies and frogs all eat mozzies, and who could say that they are not welcome, despite their noisy habits.
Selecting plants for your garden that will attract the summer visitors will not only increase the number of insects but also the range and number of birds, amphibians and mammals. So roll on summer, and play it out as loud as we can in our gardens.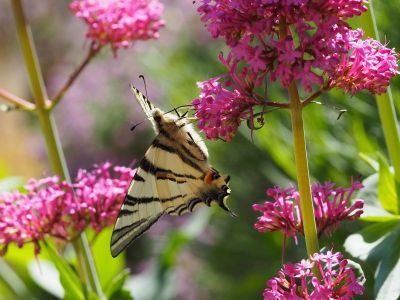 Scarce swallowtail butterfly on
Centranthus ruber
The photo at the top of this page showing a frog on the lily pads in the pond was taken by Priscilla Worsley
Many of these articles first appeared in the Castiglione del Lago monthly newsletter "Qua e là" edited by Priscilla Worsley
All text and photographs © Yvonne Barton unless stated otherwise