Wake up and smell … the daffodils - March 2023
Daffodils are not usually selected for their perfume but for me the scent of daffodils, fresh like new mown grass, transports me straight to a vase on the windowsill in my mother's kitchen. I still have that vase.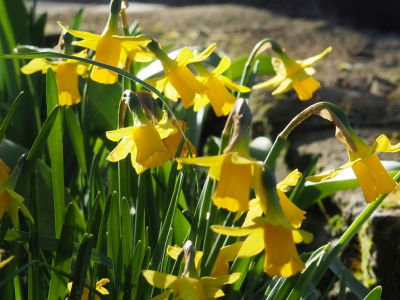 Narcissus 'Tete a Tete'
Perfumiers make an essential oil from the flower petals of Narcissus poeticus. This daffodil is native to hillsides in central and southern Europe and it was one of the first types to be cultivated in gardens – often known as 'Pheasant's Eye'.
I was surprised and delighted to learn that this oil is the base of my favourite perfume: Chanel 19. Indeed I read that the narcissus perfume is described as "lush white floral with a green leather effect" which I suppose is similar to how I recall my childhood memories of daffodils.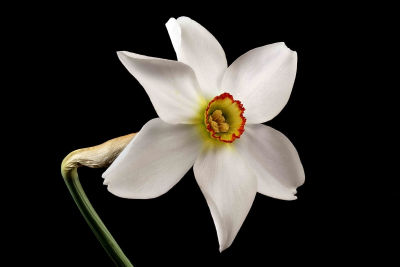 Narcissus Poeticus var. Recurvus
Another, less common, narcissus perfume is made from Jonquil, native to southern Europe. Wild harvested in the hills and valleys of Provence, it takes over 2,500 kilos of French Jonquil flowers to create a single kilo of Jonquil essential oil. The result is reported to be a "sweet, honeyed floral with notes of fresh earth and tobacco".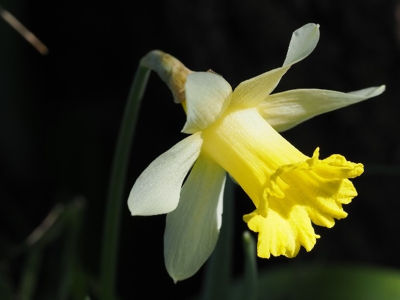 Miniature Narcissus 'Topolino'
First daffodil to bloom in my garden, in early March, is the miniature 'Topolino' (Italy's name for Mickey Mouse). It is closely related to the local native Narcissus lobularis "Lent Lily" pseudonarcissus, so named because, of course, it blooms during Lent. This is the daffodil you can see growing by the roadside and in the olive groves – although aggressive use of weed killer makes them a rare sight nowadays.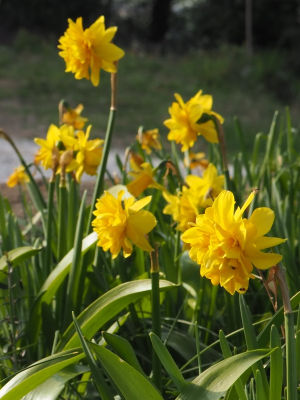 Narcissus Tete Boucle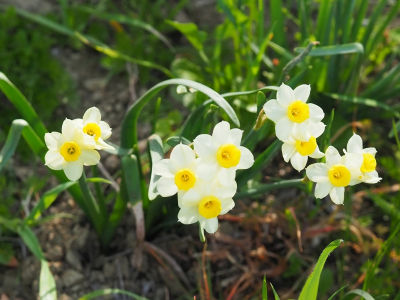 Narcissus canaliculatus
The little 'miniature' daffs are indeed quite small - typically half the height of 'normal' daffodils. But what they lack in size they make up for in resilience, variety and perfume. Fascinating colour combinations and shapes, such as the 'hooped' Bulbocodium types never fail to delight. They carry on blooming right through late March into early April, by which time the 'normal' narcissi have come into flower together with tulips.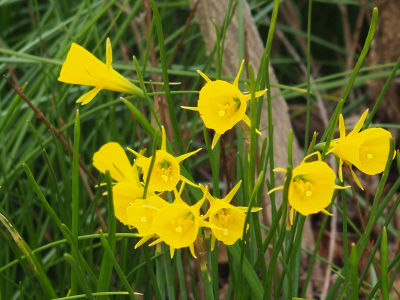 Narcissus bulbocodium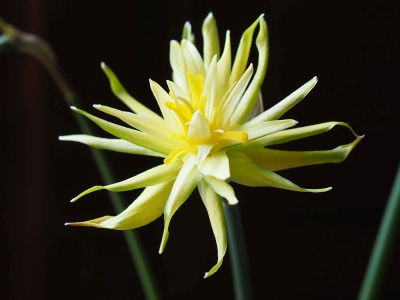 Narcissus 'Rip van Winkle'
Around the last of the little daffs to flower are the Triandus types which have several flowers on each stem.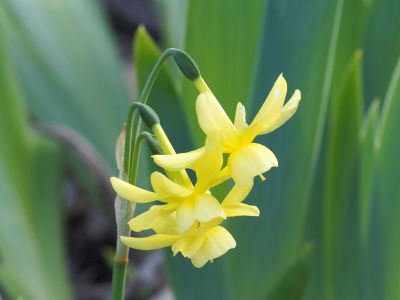 Multi-headed
Narcissus triandus
'Hawera'
If you want to extend the flowering season for daffodils then the 'normal' types will be useful, but be careful to select ones that are happy to be dry all summer. The very double and almost white 'Cheerfulness' are ideal in this respect and have a sublime perfume. Near relative 'Bridal Crown' is similar.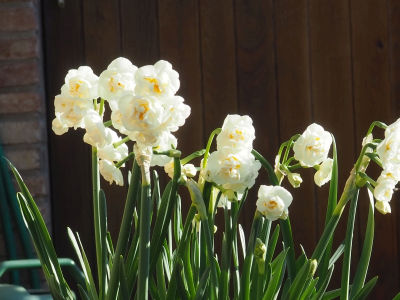 Tazetta Narcissus 'Bridal Crown' in mid April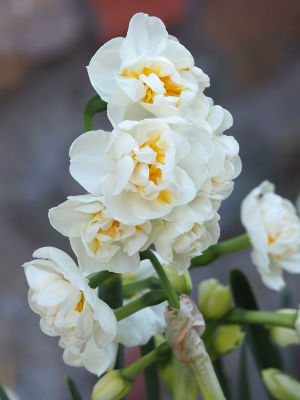 Tazetta Narcissus 'Cheerfulness'
I usually order my bulbs, including daffodils, from Peter Nyssen in Manchester who are good value and deliver to Italy. But recently an Italian bulb grower has caught my eye: Floriana Bulbose who are near Frascati. I have heard good reports about them so I think that I might give them a try: their online catalogue has a wide range. How about visiting their open door event 'Narcisi con Amore' in mid April?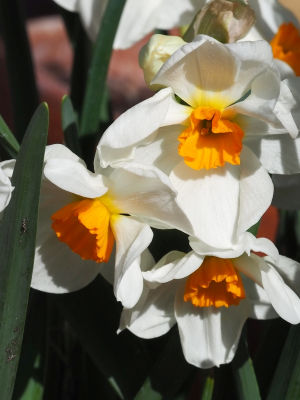 Tazetta Narcissus 'Geranium'
Sunshine after rain - June 2020
The ending of Lockdown arrived with a thunderstorm.
But as Mark Knopfler sings: There should be sunshine after rain. These things have always been the same. So why worry now. Here he is with Dire Straits.
I have to confess that the lifting of restrictions did not give me any great feeling of liberation. Instead it was rather as if the cage door had been opened and the birds were reluctant to venture out. Apprehension but not actual fear. So after the rain stopped and I tentatively went out into the garden it was uplifting to see that the lavender is coming into bloom. The sunshine now is even more atmospheric with the dark clouds behind and it lights up the flower spikes.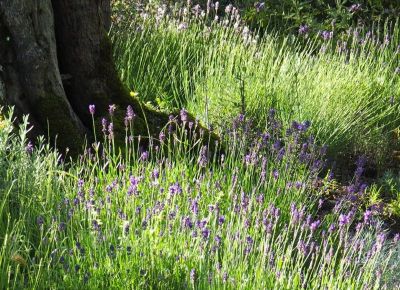 Morning lavender in early June: L. angustifolia 'Folgate' and 'Hidcote Pink'
Aromatherapy recommends lavender oil for reducing stress and anxiety. Lavender certainly is helping me be calmer, and that is simply by being present in the garden. I crush a flower head and the aroma is pungent and transports me to places in the past – as a scent so often can. So why worry now.
In my garden I have at least a dozen different types of lavender: I think it makes for a more interesting display and provides a longer season of flowering. If you really only want to grow one type then for our local climate the Lavandula x intermedia varieties are the best for tolerating both drought and cold. 'Grosso' and 'Arabian Nights' are good shades of blue but there are also pink and white forms.
And please remember that lavender must NEVER be watered. If you do it will die very quickly, most probably from fungal disease.
And the good news is that the specialist lavender nursery near Assisi is able to go ahead with their annual Festa di Lavanda so you can visit them to find a lavender that is right for you. In case you don't yet know this inspiring place, here is a video.
Scents of place - July 2017
A perfume or smell can transport us immediately and more quickly than almost anything else to a specific place and time.
Summer in Italy can be encapsulated in terms of the hot resin scent of pine trees; the uplifting perfume of lavender and the sultry exotic perfume of jasmine.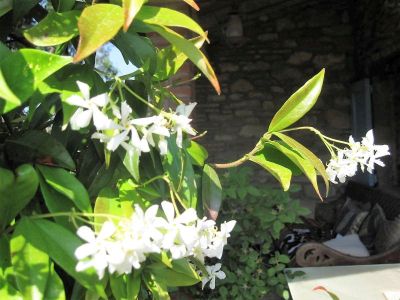 Summer perfumed Trachelospermum jasminoides (Star jasmine)
When the rain - finally - arrived at the end of June, I ventured outdoors and was engulfed by a wave of … liquorice. Helichrysum and Santolina plants near the door were responsible: they had heaved a great sigh of relief, their wet foliage releasing a pungent aroma.
I reckon I could find my way around the garden blindfold, navigating by the scents of different flowers and shrubs.
The garden can be scented all year round, not only in summer.
In spring we have roses of course, but also several scented shrubs: Philadelphus, Viburnum, Ginestra; even the humble Privet (Ligustrum vulgare) if allowed to bloom.
In autumn, Elaeagnus x ebbingei has tiny but intensely perfumed white flowers.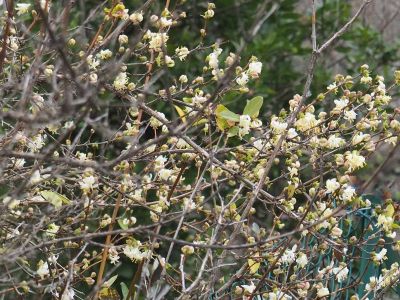 Winter Honeysuckle (Lonicera fragrantissima)
Even in the depths of winter the Winter Honeysuckle (Lonicera fragrantissima) fills the air with scent, soon to be followed by Choisya and Viburnum.
Notice how many of these have white flowers.
And don't forget bulbs. What nicer way to bring perfume to the terrace than a bowl of little species daffodils or a pot of flamboyant lilies.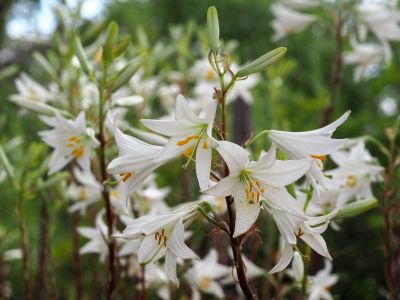 Madonna lily
Not all scents are happy though: there is a particular lily that has very special associations for me and its perfume brings me melancholy.
So, which perfume sums up Italy for you? Which scent transports you to your garden, your scent of place? Perhaps a favourite flower. Perhaps that special perfume that drifts on the air during warm summer evenings, unique to a garden in Umbria.
The photo at the top of this page shows flowers of Helichrysum italicum
Many of these articles first appeared in the Castiglione del Lago monthly newsletter "Qua e là" edited by Priscilla Worsley
All text and photographs © Yvonne Barton unless stated otherwise