Senses - Sight
Zen and the art of garden maintenance - May 2021
One of the - few - advantages of the endless lockdown is that we have had ample time to contemplate our gardens or terraces. In fact we may have even got rather bored with them. Time, perhaps, to introduce a little Zen into our gardens?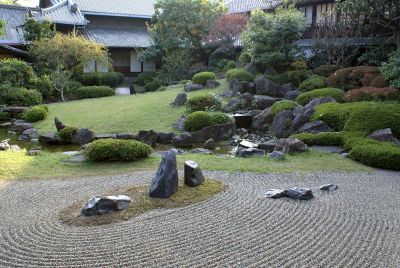 Zen garden at the Shitennō-ji temple, Osaka
My pervading memory of the Zen gardens I visited in Japan many years ago is that they were all designed so that the visitor could not see everything all at once. A certain mystery is created, even in the smallest of spaces, requiring the visitor to explore, both physically and mentally.
The principles of Zen gardening go well beyond the familiar symbolism of rocks (to suggest mountains) and raked gravel (water in motion). Whilst these features can be fascinating they are not essential. Plants, not just inanimate objects can be perfectly Zen.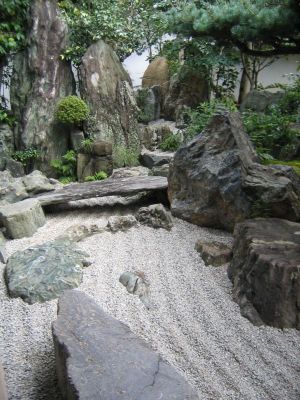 Japanese Zen garden with mountain, waterfall, and gravel "river" at Daisen-in (1509–1513)
Mindfulness in your garden is the key: a place for reflection and mental and physical well-being where you can stop and contemplate your natural surroundings. A sense of curiosity helps to engage the mind, hence the value of a little 'mystery' in the garden.
But many writers on Mindfulness in the garden seem to assume that our garden is perfect and somehow persists in this state without any need for us to work on it. In real life we have to cope with chaos, with less than perfect things such as weeds, sick plants and inclement weather.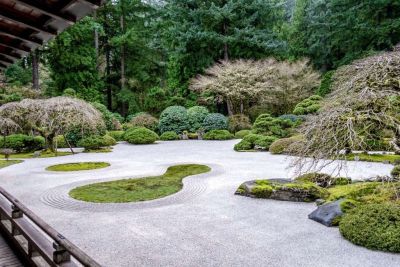 Japanese Zen garden with plants, trees and gravel in Portland, Oregan USA
I would suggest that we can benefit for being mindful in our gardens by appreciating them just as they are: imperfect. And the mindful journey will be even more absorbing if we can introduce a sense of discovery: even a pot of geraniums hidden around a corner would do.
So why not go out there now for a slow, mindful look at your garden. Take a drink - perhaps tea if we are being Japanese - but I won't tell anyone if it is something a little stronger.
Whilst we are all stuck at home, being fully aware of our natural environment can help us get through the dark times. One idea is to note "three good things" we see in nature each day. This could be through a window or outside on a walk or whilst we potter about in our gardens.
Professor Miles Richardson at the University of Derby developed the "three good things" approach with his Nature Connectedness Research Group. His aim is to improve our connection with nature and his research has shown that it definitely benefits our wellbeing.
We can keep our findings to ourselves or, for those who like to share on social media, use the hashtag #3naturethings. They won't be difficult to find. Just be still enough to notice. Nature to the rescue.
When you have finished meditating perhaps you will have identified a patch of weeds that needs attention or a shrub that has finished flowering and wants a trim. Time to get back to work!
The photo at the top of this page shows a dry Japanese landscape garden at the Huntington in San Marino, California (Photo by Dailymatador via Flickr)
The photos within the text are from Wikipedia
Many of these articles first appeared in the Castiglione del Lago monthly newsletter "Qua e là" edited by Priscilla Worsley
All text and photographs © Yvonne Barton unless stated otherwise