Plant of the Month - September
The intense heat of the days is now easing off but nights are often clear and cold giving a welcome freshness to the atmosphere.
Canna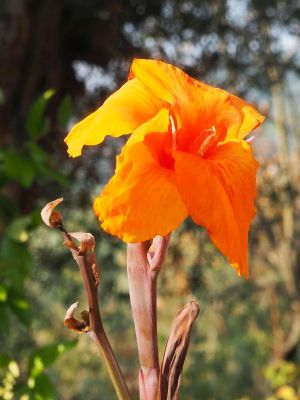 Canna 'Parténope' (?)
Native to the southern states of America and Latin America, these tall showy plants grow on fleshy rhizomes. Frost tender, so they are best grown in a pot and brought indoors in winter or covered with fleece or straw if in the ground. They need regular watering but the large ornamental leaves are a welcome feature on the terrace even before the flowers appear. Propagate in spring by dividing the roots. The Canna I have was given to me by a gardening friend in Tuscany. I am not sure of its name but I think it is one of the 'Italian group' of canna developed by Dr Sprenger in Naples in the 1890s.
Caryopteris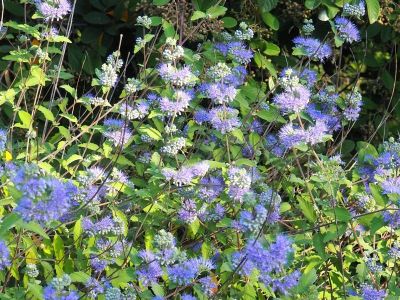 Caryopteris 'Heavenly Blue'
Caryopteris has been in bloom since late August and will last through until the end of October. It is an elegant shrub with pale green 'mint like' leaves. Caryopteris 'Heavenly Blue' has pale blue flowers and reaches 1.5m.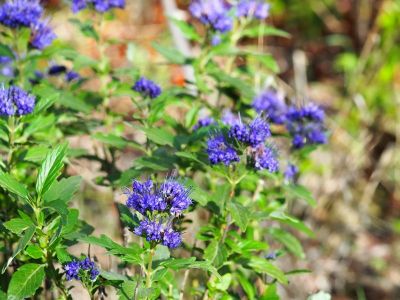 Caryopteris 'Kew Blue'
The variety 'Kew Blue' has deeper blue flowers and is a slightly smaller shrub. My favourite at the moment is 'Grand Bleu' with rich blue flowers and a taller habit. Insects, especially bees, are strongly attracted to the late-season flowers. Trim back to old wood in early spring to encourage shrubby growth; nonetheless the stems will remain slender and the plant and retain something of a 'see through' look.
Drimia marittima - Sea squill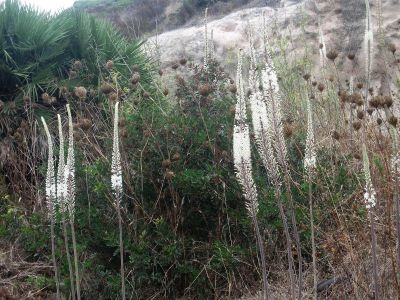 Drimia marittima growing wild in Sardinia
A flamboyant bulb which is native to the coasts of the Mediterranean. The bulbs are very large and send up leaves in winter followed by tall flower spires the next autumn. The bulbs are poisonous and are used to make rat poison. A very cold winter may damage Drimia but it is worth a try.
Miscanthus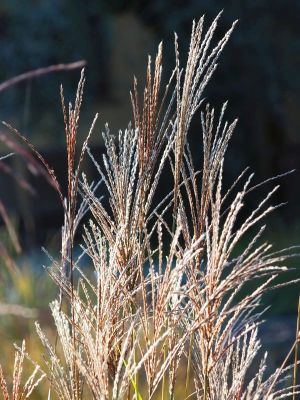 Miscanthus sinensis 'Gracillimus'
Architectural plants for the dry garden that stand all winter providing points of interest. Originating from east Asia, the taller type Miscanthus sinensis 'Gracillimus' which grows to 1.2m is best with a little shade, but slightly shorter 'Yaku Jima' is happy in full sun. Trim back flower stems in early spring before the new growth starts.
Pyracantha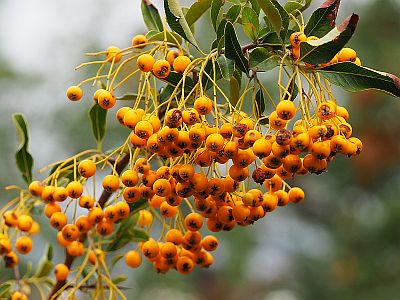 Pyracantha coccinea
A spiny shrub that bears berries in a range of colours from yellow through orange to red, Pyracantha or Firethorn is native to southern Europe. You can find tall varieties (Pyracantha coccinea) growing almost wild along the roadsides around Chiusi. There is also a smaller type which is more compact and good for flower arrangements. Pyracantha has small white flowers in spring. It is tempting to try and prune this shrub into a shape but this can result in a deformed plant. I prefer to leave it exuberant and for it to reward me with masses of berries.
Plumbago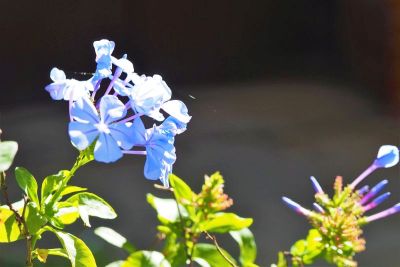 Plumbago capensis
Plumbago has the most perfect deep blue flowers, the colour of summer skies. Summer distilled into a flower. It is native to South Africa and sadly is not really frost hardy. In my garden at 400m I have to grow it in a pot and bring it indoors for the winter. Gardeners down by the Lake should be able to grow Plumbago in the ground and perhaps just cover it with fleece in winter. It's worth a try: I recall Plumbago growing as a hedge in Algiers, an uplifting sight. Give the plant a light trim in autumn before you cover it for winter.
Stipa gigantea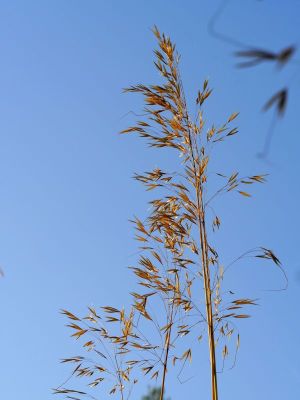 Stipa gigantea
Flowering later in the season than the smaller Stipa, this is a magnificent ornamental grass for the back of the border or a wild part of the garden which turns golden in autumn. Reaching 2m, it is native to the western Mediterranean and very resistant to drought and cold. Trim back the flower stems in spring.
The photo at the top of this page shows Plumbago capensis growing in a pot
Many of these articles first appeared in the Castiglione del Lago monthly newsletter "Qua e là" edited by Priscilla Worsley
All text and photographs © Yvonne Barton unless stated otherwise