Beyond geraniums - November 2022
We have been enjoying a wonderful warm sunny spell, a second summer in October. Even the first few days of November have been pleasantly warm. But now the night-time temperatures are dropping.
Below 4 degrees and lemon trees must be brought indoors for shelter. If you are fortunate enough to have a Limonaia then that will no doubt be a place of beauty, but for most of use it means a shed or garage which is probably cramped and too dark.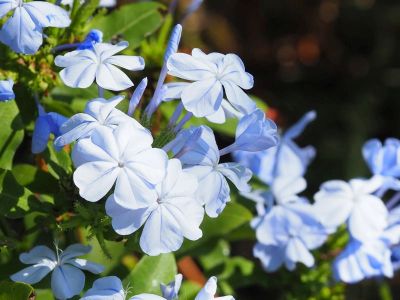 Plumbago does well in a pot - in August
Some other plants in pots need to come indoors too: Canna and Plumbago are frost-sensitive. I am never sure about Agapanthus though. Whilst you are sorting out their winter quarters you might give some thought to other plants to try in pots: if we get a dry summer like the last one then it can be easier to care for a plant in a container on the terrace than risking survival out in the open garden.
And let's be imaginative, going beyond geraniums. The same pot can be used for different plants to give interest right through the year.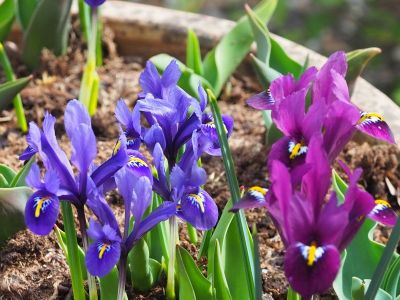 Iris reticulata varieties 'Rhapsody' and 'Purple Hill' in February
Bulbs are especially useful for extending the seasons: little Iris reticulata bloom in February and they can be followed in the same pot by daffodils and/or tulips (plant them at their respective depths in October or November).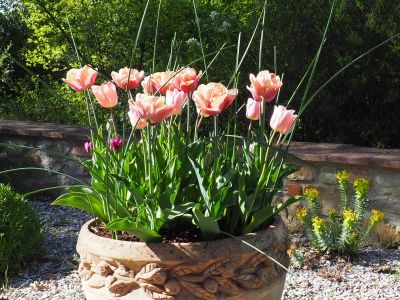 The same pot with Tulip 'La Belle Epoque' in April
Ornamental Salvias go on blooming right into autumn - I transplant them into a plastic container for winter/spring then replant them into terracotta in summer.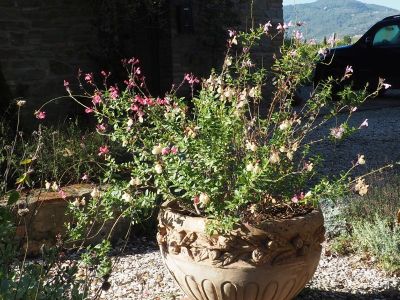 And that pot again with Salvia microphylla in October
Lilies are such splendid plants they merit a (large) pot all to themselves to show off their magnificent tall flowers in June - and there are lots of different types, many of them scented.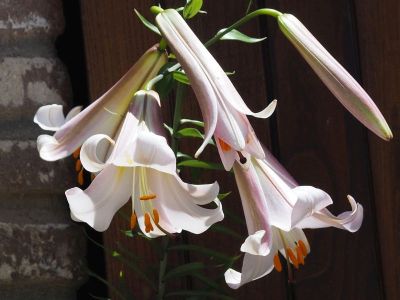 Lilium regale in June
Some of the more interesting pot plants I have discovered because it was too late to plant them out: Abelia, Sedum, ornamental Grasses, Yucca are all well behaved. Little Erigeron karvinskianus and Nepeta (cat mint) in shallow bowls can brighten a dull corner.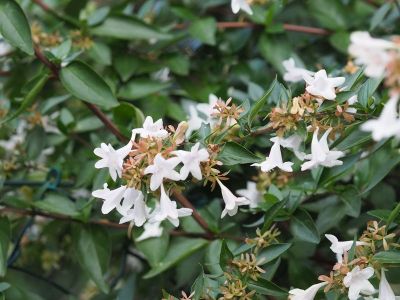 Abelia x grandiflora in November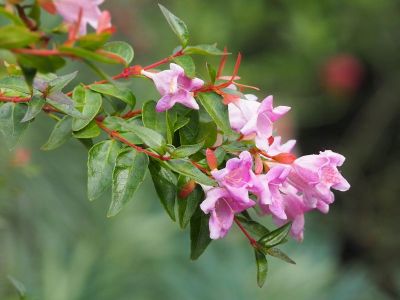 Abelia x grandiflora 'Edward Groucher' in October
I have also had success with Buddleia, Pistacio, Eleagnus, Hydrangea quercifolia, Abutilon. These shrubs each have their own individual style and decorative effect. I am planning to try Choisya too.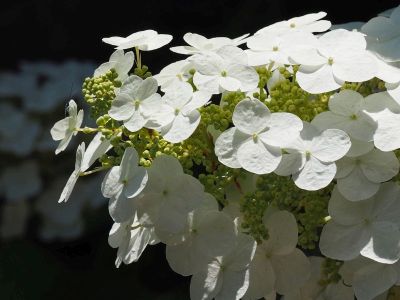 Hydrangea quercifolia in June
And how about sprinkling a few seeds - Cosmos perhaps - on the pots where bulb foliage has died sown for a late summer show.
The photo at the top of this page shows a group of pots on the terrace in November
Many of these articles first appeared in the Castiglione del Lago monthly newsletter "Qua e là" edited by Priscilla Worsley
All text and photographs © Yvonne Barton unless stated otherwise