Plant of the Month - November
Days are getting shorter and temperatures are dropping. This is the month when - usually - we get the most rainfall.
Abutilon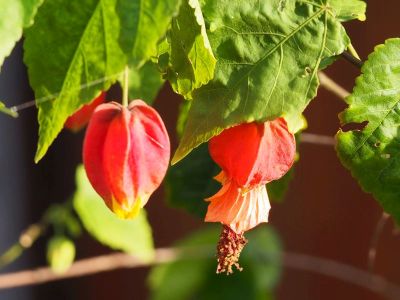 Abutilon megapotanicum
With its curious 'Chinese lantern' flowers, Abutilon is originally from Brasil. It is particularly useful for its late flowering. A short climber (up to about 2m) it is drought resistant and fairly tolerant of cold but I do like to give it some winter protection.
Arbutus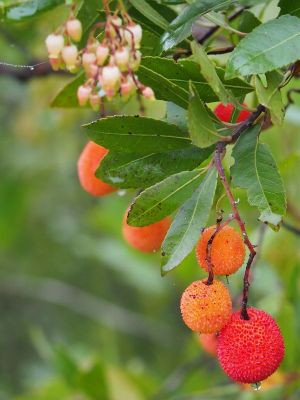 Arbutus x androsterilis
Arbutusis a compact, evergreen shrub of great drought resistance and can provide structure to a garden design. Variety Unedo or Strawberry tree is to be found in the woods around Trasimeno, and in autumn it bears both small pale flowers and round knobbly red fruits at the same time. The fruit, which takes a year to mature, is supposed to be edible but I have never tried. Other varieties are available, such as Arbutus x androsterilis, which have attractive red bark or pink flowers.
Elaeagnus x ebbingei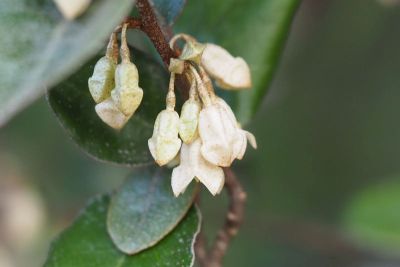 Deliciously perfumed, tiny flowers of Elaeagnus x ebbingei
You probably won't notice the tiny white flowers on this shrub but you will be hit by the delicious perfume that fills the terrace on calm autumn days. Evergreen Elaeagnus x ebbingei is an elegant alternative to laurel for hedges with its silver-tinged leaves. If allowed to grow unhindered it can reach 2m x 2m but it is easy to keep in check. Resistant to cold and drought. There are also other varieties of Eleagnus that might be worth a try: Eleagnus angustifolia blooms in spring but is similar in growth habit otherwise.
Euonymus europaeus - Priest's cap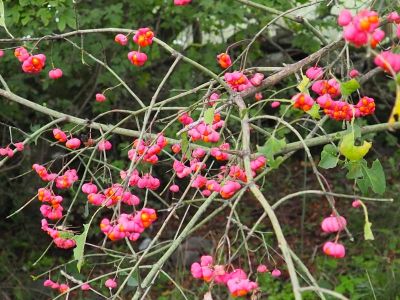 Distinctive fruits of Euonymus europaeus
Priest's cap (berretta del prete), European spindle, Euonymus europaeus is native to Europe and has distinctive fruits in autumn - which are very poisonous. European spindle wood is very hard and can be cut to a sharp point; it was used in the past for making spindles for wool-spinning and for butchers' skewers. Charcoal for drawing produced from this plant is considered as superior among artists due to its strength and density. Grows quite tall if not pruned. There is also Euonymus japonicus which has slightly serrated leaves and red fruits in autumn.
Nerine - Guernsey lily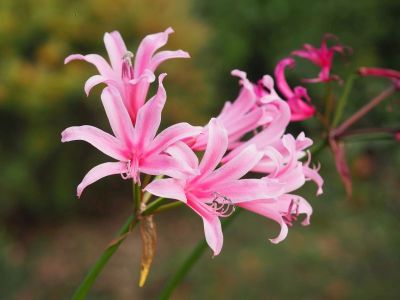 Nerine Bowdenii
Such an exotic-looking bulb but one that should be suited to our climate. I tend to select Nerine Bowdenii because it is supposed to be more resistant to cold, but if you give them some winter protection all Nerine should do well. Native to South Africa and grows to around 40cm tall. Sometimes it produces just leaves and I don't know what you have to do to encourage it to flower - just wait I suppose.
Poncirus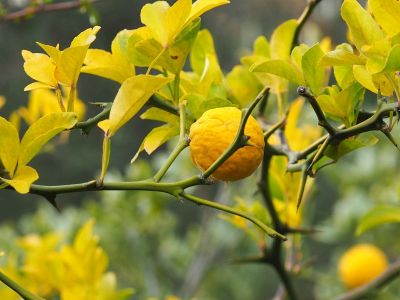 Poncirus trifoliata fruit
Poncirus is the only citrus that is hardy enough to stay outdoors all winter. It has lovely fragrant white flowers in spring but the fruits are particularly ornamental.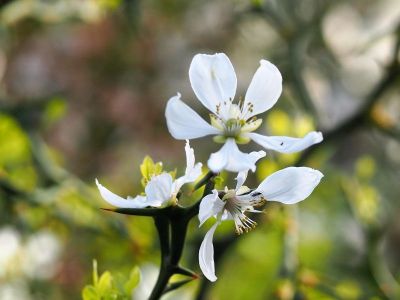 Poncirus flowers in April
Poncirus is native to northern China. It has fierce thorns. Poncirus responds surprisingly well to clipping and I have seen it trained as topiary balls.
Rosemary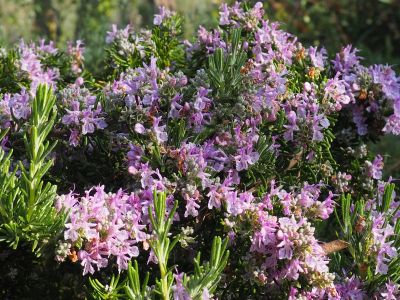 Rosmarinus officinalis 'Majorca Pink'
Rosemary is the classic Mediterranean shrub: it blooms twice per year and therefore is invaluable to bees early and late in the season. The range of growth habits makes it very versatile: tall upright through to trailing and colours from white through pink to blue. For some strange reason the 'powers that be' have decided to rename rosemary as a salvia – but why?
Salvia - ornamental varieties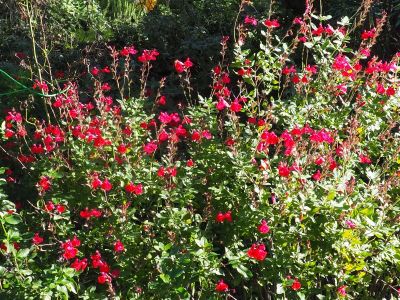 Salvia x jamensis
Related to culinary sage but much more elegant, these salvias come from the southern states of America and Mexico. There are many hybrid varieties which are resistant to drought but several can also withstand cold. Salvia x jamensis has a wide range of colours. These salvias bloom a little in early summer but really come into their own in autumn. Cut back hard in spring - not autumn - once they have got through winter and again cut back by half after their first flush of flowers. They also do well in large pots on the terrace. The Mediterranean Garden Society has a photo gallery of salvias together with details on how to grow them.
Yucca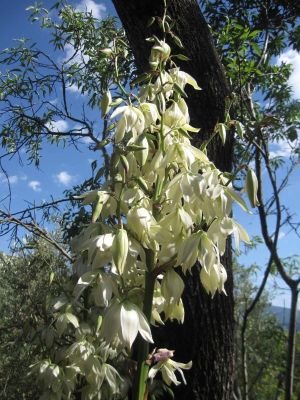 Yucca in flower
The Yucca in my garden seem to flower whenever they feel like it: this year it was in November but it often has been in May. I always find the towering flower spikes astonishing. I am not sure what variety of Yucca this is but it might be Yucca filamentosa: whichever it is, It seems to resist drought and cold. The main fascination of the yucca though is the spiky leaves which make an architectural statement in garden design, if that's what you are looking for.
The photo at the top of this page shows a view across the garden to the vineyard with Poncirus in the foreground
Many of these articles first appeared in the Castiglione del Lago monthly newsletter "Qua e là" edited by Priscilla Worsley
All text and photographs © Yvonne Barton unless stated otherwise