Mists - Back to school - September 2018
September already. Where did the summer go? That 'Back to School' feeling that descends as soon as September arrives, marks for gardeners as well as school children the start of the new year. Even the air smells and tastes different as the mornings often brings mists to the valley.
We hope to start our 'new year' well and rested after the summer holidays. We may not have new pencil cases and exercise books but we can be tantalised by the new Growers' catalogues offering fantastic new plants: the stuff of dreams or yet another disappointment looming? Will we get a gold star at the end of term or just E for Effort?
You may have plenty of gaps in your garden - I certainly do - waiting to be filled. Or as a gardener friend advised me recently: 'These are not gaps, Yvonne, they are opportunities'. Well, my garden is a land of opportunity at the moment.
After the cruelty of the winter we are relieved to see almost anything still alive. The surprisingly abundant rain storms in May and June were great for kick-starting damaged plants back into growth. Did you see how the Oleanders bounced back after being badly burned by frost? Mine did not flower this summer but I have great hopes for next year.
But the warm wet conditions were also very bad for fungal diseases. Grape harvests may be poor this autumn for those farmers who either couldn't or wouldn't spray enough fungicide: a challenge for those who want to stick to organic principles. The consequence for gardeners was that some flowers and shrubs were also affected: roses in particular are susceptible to the same diseases as grape vines.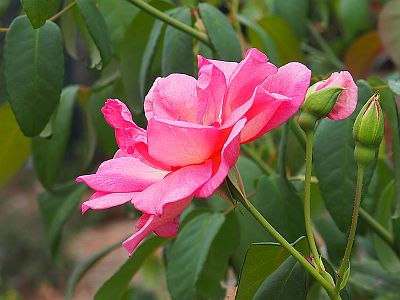 China rose 'Papillon' making a come back
My poor old China roses are in a terrible state: they started to come into new growth in January so they were pruned early. A disaster because the freezing temperatures in February destroyed the soft shoots. Then they started to shoot again with the spring rains but have suffered badly from fungal diseases passed on by the vineyard next door. I sprayed them but not often enough. I don't have the courage to inspect the plants at the moment - and certainly not show you a photo - but I must do something about it soon.
Some plants really enjoyed the rain in early summer and even became over-excited: several of the Santolina have grown too fast and gone all floppy. And don't get me started on the weeds.
Go out into your garden with an exercise book - or whatever you like to write on - and plan your planting scheme around what you see has survived and those - ehem - opportunities.
A gardening friend described my 'tough love' approach to planting as like sending a small child to boarding school.
The photo at the top of this page shows a view from the garden across the valley as September brings mists and milder weather
Many of these articles first appeared in the Castiglione del Lago monthly newsletter "Qua e là" edited by Priscilla Worsley
All text and photographs © Yvonne Barton unless stated otherwise
website designed and maintained
by Hereford Web Design