Design - Think outside the Box - April 2019
With the boar rampaging around my garden my thoughts, not surprisingly, fix on barriers to animals and how to defend my territory. I was thinking about a hedge as I was driving around the district when my attention was jolted by a great long expanse of bright red Photinia, in all its relentless monochrome horror, neatly trimmed and obviously the pride and joy of its owner.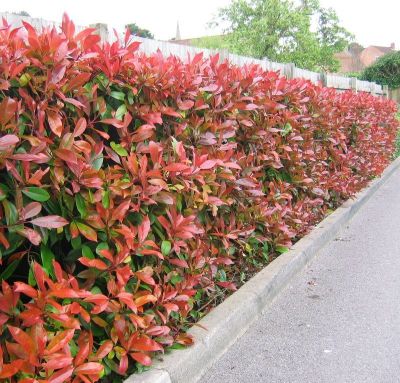 Photinia x fraseri 'Red Robin' (Wikipedia)
Not that there is anything wrong with Photinia per se, but perhaps it is better used as an occasional accent in the garden rather than a Trump-style wall.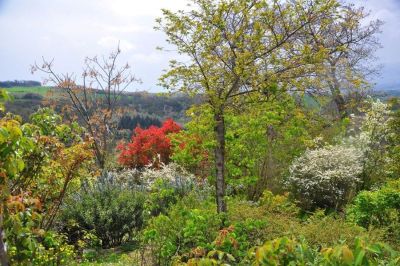 Clever use of Photinia by Gabriella Lizza in her wonderful garden near Todi (Photo G&G)
So, what can we use for hedging that can be clipped into neat shapes and stays evergreen?
Box, of course! Well, not really: if the box blight fungus doesn't destroy it then the box tree caterpillar will.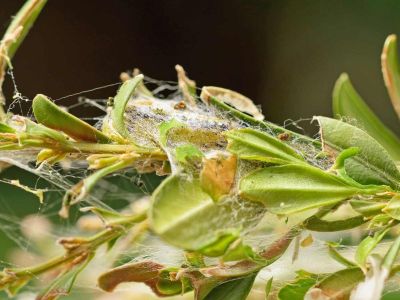 Box tree caterpillar damage (Wikipedia)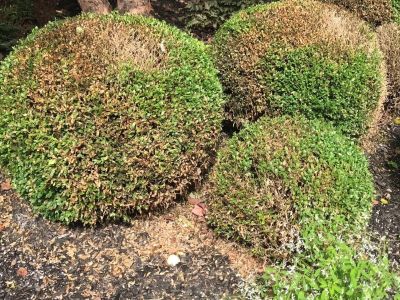 Box blight (Wikipedia)
No amount of spraying and care will keep a monoculture of box in good health – so just get over it. Even the sainted Monty Don has dug up all his box hedges. It's time to think beyond box.
Most woody shrubs with small leaves and branching habit can be clipped into shape, especially if you start when the plant is young.
In the demonstration garden at vivaio Botanical Dry Garden® at Orbetello near Grossetto, they show how to trim to shape - even topiary - a vast range of drought-resistant shrubs. The choice is endless. In the photo below you can see at least 20 different shrubs clipped in this way, including Atriplex, Juniper, Myrsine africana (Cape Myrtle), Phillyrea, Pistacia lentiscus (lentisk), Rosemary, various type of Myrtle, Santolina, Teucrium. I would also add Choisya and Pittosporum … the list is endless.
Have a go - get out of your box!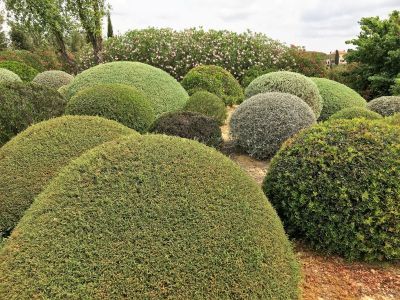 Clipped shrubs for hedging and topiary at Botanical Dry Garden
For a less formal hedge you might consider shrubs which grow wild in our area. Along the edge of the bosco here grow several interesting varieties:
Dogwood is a deciduous shrub which not only has ornamental white flowers and black berries but in winter the bare stems turn a pleasing red colour - hence the name.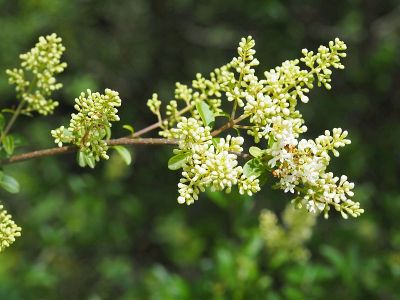 Ligustrum vulgare (wild privet)
Privet - yes privet - in its wild form (Ligustrum vulgare) is native to southern Europe and has surprisingly sweet-scented flowers in spring followed by black berries in autumn. The privet that is widely used for suburban hedges is mostly a hybrid of Japanese types of Ligustrum.
Rhamnus is very robust shrub which has small white flowers followed by red berries in summer, turning black in winter. However it can get very tall if not kept under control.
Bay grows wild at the edge of our woodland and despite the north aspect and cold winter winds it is very resistance to low temperatures. I suspect that ornamental bay trees in pots are more susceptible to cold due to being so small and having their branches clipped all the time. The large shrubs here are magnificent and have fluffy pale-yellow flowers in spring - which the pot grown specimens are not usually allowed to develop.
Some more native shrubs to add to the list of tall hedging are: Holm Oak (Quercus ilex), Viburnum, Cornus (there are several), Euonymus, Juniper, Medicago, Jerusalem thorn (Paliurus spina-christi), Phillyrea.
The photo at the top of this page shows a beautifully tended group of topiary shrubs created by Gary Gardenhire at Campello sul Clitunno (PG)
Many of these articles first appeared in the Castiglione del Lago monthly newsletter "Qua e là" edited by Priscilla Worsley
All text and photographs © Yvonne Barton unless stated otherwise
website designed and maintained
by Hereford Web Design