Plant of the Month - August
Even in these furnace-hot days there is colour in the garden. Blooming right through are Achillea, Perovskia, Oleander Tulbaghia and many grasses, but a special mention goes to these plants:
Bupleurum fruticosum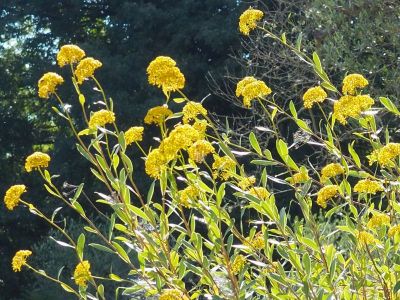 Bupleurum fruticosum
Native to the Mediterranean and used in garden design since the Medicis - see it in the Italianate garden at Villa di Castello in Florence. This tall shrub, grows to about 2m and resists any amount of drought and survives cold winters. Bupleurum spreads to form a dense clump and self-seeds easily. It can be cut back hard in spring but this is not necessary unless the plant is getting too big.
Epilobium canum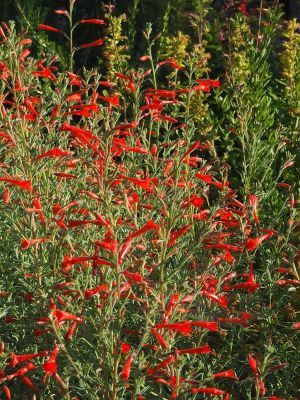 Epilobium canum 'Western Hills'
Native to California, this perennial has tubular flowers on slender stems which grow 60cm tall and spread slowly to form an attractive clump. It is excellent in the gravel garden being very resistant to drought and cold. Epilobium canum 'Western Hills' has bright red flowers that keep going through to October. There are others with white and pink flowers, but this is the most reliable. Trim back foliage in spring.
Gaura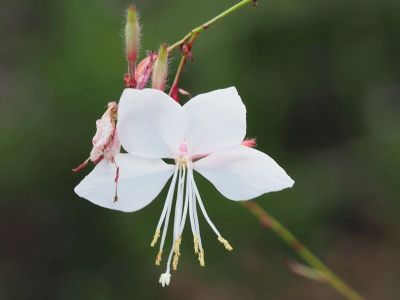 Gaura lindheimeri
Native to the southern states of America and Mexico, Gaura is an elegant perennial which adds a touch of lightness to the dry garden design with its slender stemmed 'butterfly' flowers. Usually it resists drought extremely well, but in summer 2021 many people found it disappeared (including mine), most probably due to lack of rain in the spring. There are several varieties but the tall white Gaura lindheimeri is easiest to find here which grows to about 1m. There are also pink and shorter white varieties. Gaura will continue to bloom throughout September; cut back flower stems in spring.
Pelargonium - balcony Geranium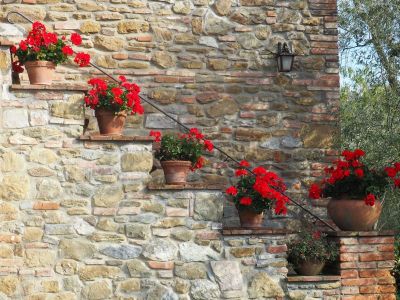 Zonal Pelargoniums
Native to South Africa, Pelargoniums are nonetheless the iconic flower of summer in Italy. Where would our terraces and balconies be without them? There is more than one type commonly available - and not just red - all of which are best in pots and bloom right through summer. Upright Zonal Pelargoniums (with dark 'zones' marking on their leaves) are the most resistant to hot sunny conditions.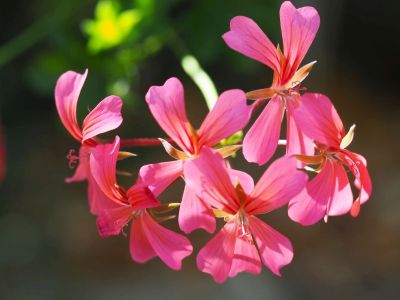 Trailing balcony Geranium
Trailing Ivy-leaf are better with a little shade. Scented leaf types are good on a terrace where brushing past them releases the aroma of lemon or apple. Best treated as annuals, Pelargoniums are killed by frost but can over-winter in an unheated limonaia. I buy or re-pot geraniums once the weather warms up in April. Feed and water regularly: I find that Compo make a very good granular fertiliser which only needs to be applied in spring.
Waterlily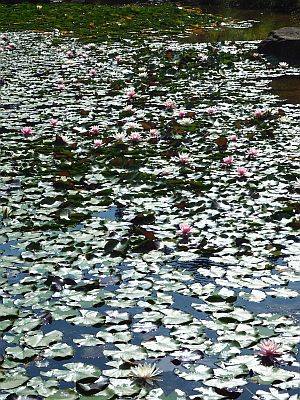 Waterlilies on the pond in August
The first flowers open on 1 May and then keep going through to the end of September: waterlilies are such a rewarding plant. They need very little care and they drop down to the bottom of the pond to over-winter. My waterlilies have pink and yellow flowers but different types are available.
The photo at the top of this page shows Ivy-leaf Pelargoniums which I buy from the specialist growers Azienda Agraria Mezzasoma
who have the poly-tunnels on the edge of Lake Trasimeno just east of Sant'Arcangelo
Many of these articles first appeared in the Castiglione del Lago monthly newsletter "Qua e là" edited by Priscilla Worsley
All text and photographs © Yvonne Barton unless stated otherwise