Plant of the Month - April
Whilst winter may well be behind us now there is still the risk of snow and frost in April.
Botanical tulips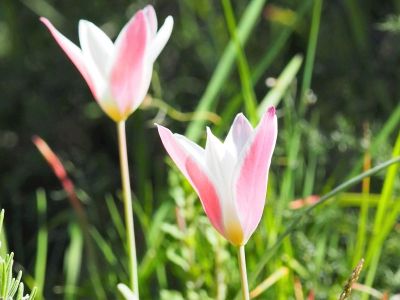 Tulipa clusiana 'Lady Jane'
These small tulips are perennial and do not need to be lifted and replanted or replaced each year, unlike their taller Dutch hybrid relatives. Of course, with bulbs 'more is more' so I suggest you keep adding to them, especially as they don't always bloom every year. For those of you yearning for those showy tulips and cannot get out to see any try listening here:.
Ceanothus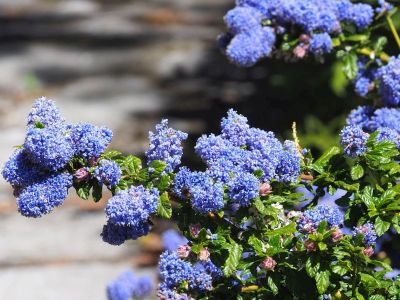 Ceanothus thyrsiflorus var. repens
Native to California, there are many varieties and hybrids of which low growing Repens and taller Conca can be found to buy here. Spring blooming, pink buds precede blue flowers. Ceanothus is very resistant to drought but a little tender in winter so it is best kept out of the path of cold 'Tramontana' winds.
Cercis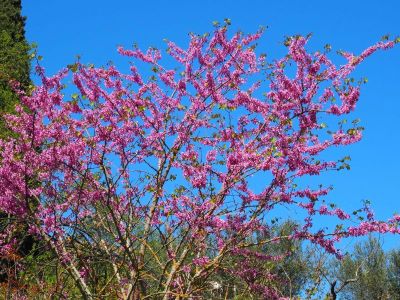 Cercis siliquastrum
Cercis siliquastrum. Judas Tree, known locally as 'spacca sassi'. Native to south east Europe. Very tolerant of drought and cold, the bright pink flowers arrive before the leaves. In some warmer climates the Judas tree is being used as a less thirsty replacement for cherry blossom as a street tree.
Dutch iris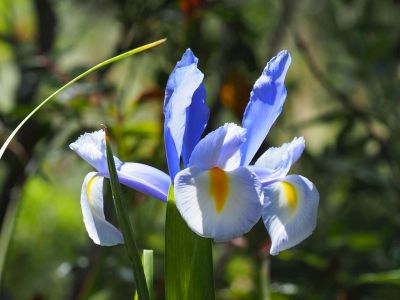 Dutch iris 'Silvery Beauty'
Dutch iris are bulbs and nothing to do with the Tall Bearded Iris that are native to the region (which are rhizomes). They are very easy to plant and they add a certain exotic touch to the planting scheme. They do come back in future years but best to top them up each autumn to get a decent showing
Nepeta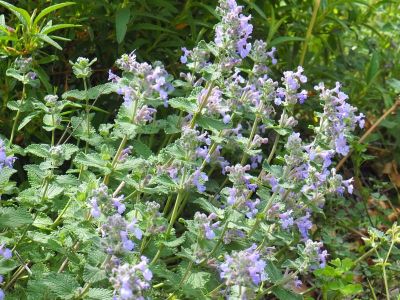 Nepeta x faassenii 'Six Hills Giant'
Nepeta or catmint is a very useful plant for edging paths and softening the planting scheme. It is quite undemanding and can bloom twice, needing only a trim in late winter. Originally from Central Asia, Nepeta racemosa grows to around 20cm. There are hybrids such as Nepeta x faassenii which grow a little taller and 'Six Hills Giant' (40cm) is a very ornamental variety. Generally the flowers are in shades of blue or white, the bees enjoy the early and late season blooms.
Potentilla verna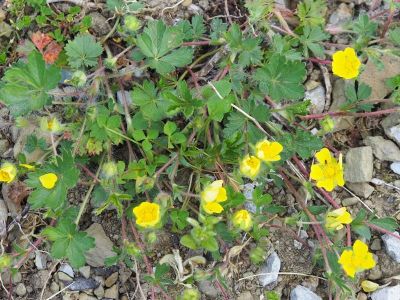 Potentilla verna
A tiny ground cover plant more like a buttercup than the shrubby Potentilla we are more familiar with. Potentilla verna is very tough and resistant to being walked on or even the wheels of cars.
Rosa Banksiae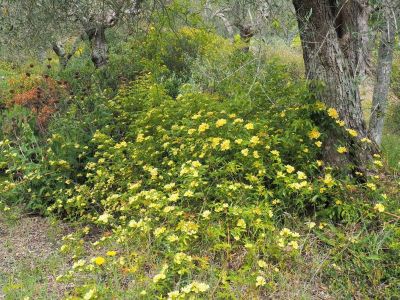 Rosa Banksiae lutescens
The first roses to bloom in my garden. Banksiae are virtually thornless which means they are safe to plant next to a gate or pathway. Growing very tall, they need support or to flow over a wall. Several varieties are available: not just the familiar lutea with small pale-yellow double blooms but also lutescens (fragrant, single yellow), normalis (fragrant, single white), Purezza (white, larger flowers, sometimes re-flowers in autumn). Banksiae roses enjoy hot dry conditions but are not as resistant to cold as some other roses. Don't prune hard, just take out the odd old branch after flowering.
Spirea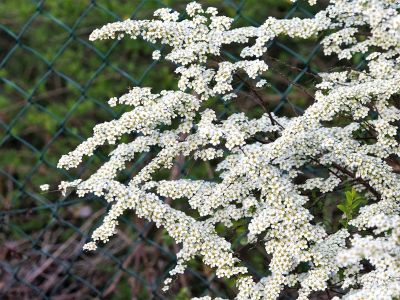 Spirea x arguta 'Bridal Wreath'
Originally from China, Spirea is a surprisingly useful and robust shrub for the dry garden. The white flowering Spirea x arguta 'Bridal Wreath' light up the spring shrubbery and pink Spiraea japonica 'Anthony Waterer' is an attractive strong pink. Prune immediately after flowering: to keep the 'fountain' effect of the arching branches just take out some of the old stems down to ground level rather than trim the whole bush.
Syringa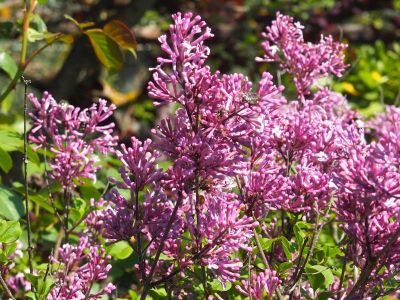 Syringa x persica
Lilac. Syringa vulgaris or common lilac we are all familiar with is native to eastern Europe. Hybrid Syringa x persica is a smaller shrub, perhaps more resistant to drought and its more delicate form is easier to work into planting schemes. No need to prune unless it is really getting out of hand.
Viburnum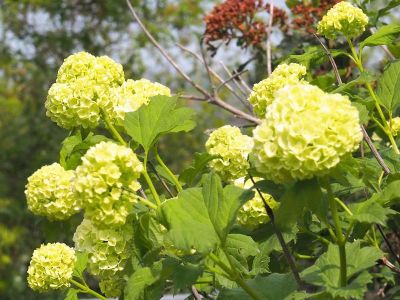 Viburnum opulus sterile
Viburnum tinus is a very widely used shrub in our area – and quite rightly so as it is native to the bosco in Umbria. It has year-round interest: evergreen with pale cream flowers in late winter followed by blue-black berries in autumn, it can be clipped to shape. There are named varieties with more showy blooms too. The flowers on mine have been burnt by the frost and look rather sad and brown now, but otherwise this plant is almost too successful as it self-seeds freely.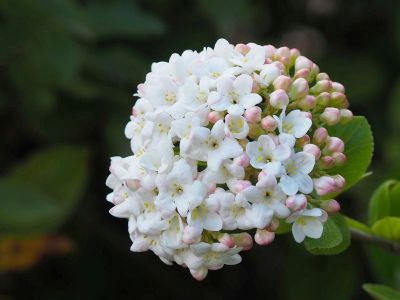 Viburnum carlesii
But there are lots of other types of Viburnum that do well in the dry garden. Deciduous Viburnum opulus sterile has dramatic 'snowball' flowers in spring that start green and turn white. Wide-spreading Viburnum plicatum is more elegant and I had thought that this is what I had planted at the end of my garden … but it turns out to be Viburnum carlesii. Not that I mind because the spherical flowers are like porcelain and the scent is intense. My special favourite is fragrant, pink winter-flowering Viburnum bodnantense.
Vinca major
Vinca major
Periwinkle. A very useful ground-cover plant especially in the shade under large shrubs, it grows in a creeping habit which suppresses weeds. Vinca is native to southern Europe and evergreen, it is resistant to drought and cold.
Wisteria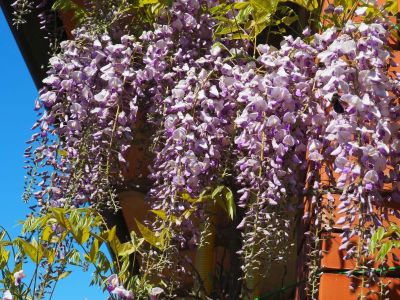 Wisteria floribunda 'Rosea'
Wisteria is a fabulous climber if it is pruned regularly. The Japanese 'floribunda' types are less aggressive than the Chinese 'sinensis' varieties.
The photo at the top of this page shows the flowers of Cercis siliquastrum. Judas Tree
Many of these articles first appeared in the Castiglione del Lago monthly newsletter "Qua e là" edited by Priscilla Worsley
All text and photographs © Yvonne Barton unless stated otherwise